---
The vibrant Filipino community in the Netherlands joined the Philippine embassy in The Hague in celebrating 125 years of Independence.
---
Who does not love fiesta? Every Filipino who grew up in the Philippines would agree that fiesta, that one day of joyful celebration in honor of a religious figure, is a strong part of growing up Pinoy. While Filipino expats living in dominantly Catholic countries like Spain, Portugal and Italy are also used to celebrating fiestas in their adopted countries, nobody beats the Pinoy version, which means lots of music, dancing, and of course food.
Aptly dubbed Fiesta, the Philippine Embassy in the Netherlands, led by Ambassador J. Eduardo Malaya and the hardworking embassy staff, together with Philippine Department of Tourism (Frankfurt), Philippine Department of Agriculture (Brussels), and the Philippine Trade and Industry (Brussels) organized a community reception for Filipinos in the Netherlands in celebration of the 125th year of Philippine Independence. The event was attended by members of the Filipino community, from Rotterdam to Groningen.
Filipino generosity in the Netherlands
The embassy parking lot, which was recently converted into a garden, became the venue for the event. And like a true fiesta, prominent Filipino organizations, businesses and individuals donated a generous amount of food (including a whole mouth-watering lechon) and beverages for the event. Among them are Manila Trading and Aling Alyssa Food Products, Nida Philippine Products, Baryo Pilipinas, Nordrick Asian Grill Salads Filipino Restaurant, Hazel's Cusina, Guapito Premium Beer, Toko 4 All, Kabayan Dreamfloat, and Filipino-Dutch community organizations United Filipino Dutch Association and Jesus Is Lord.
Prizes were also given away courtesy of Baryo Pilipinas, Kabayan Dream Float, JMR Trading, Nida Philippine Products BV and Nordrick Asian Grill & Salads Filipino Restaurant, and Toko Pilipinas.
Afternoon of OPM music
The afternoon was also filled with OPM music performed by local Filipino artists including Ann Antonio who sang "Bakit ba Ganyan" (popularized by Dina Bonnevie) and "Kailan" (Smokey Mountain), Anabelle A. Ausa who sang "Isang Lahi" (Regine Velasquez) and "Hawak Kamay" (Yeng Constantino), and Cristina Barabat who sang different melodies including Kung Maibabalik Ko Land, among others. Guests could not help but sing along, adding nostalgia of the familiar and sorely-missed Filipino gatherings at home.
Ambassador Malaya reiterated his call for the Filipino community, living in the Netherlands and beyond, to remain united and live the Filipino spirit of community and camaraderie.
Diplomatic reception at PH Embassy
Meanwhile, the diplomatic reception of the Philippine Independence Day was also well attended. Among the distinguished guests were Dutch officials and diplomats including Dominique Kuhling and Max Valstar from the Dutch Ministry of Foreign Affairs, Dr. Christophe Bernasconi, Secretary General of the Hague Conference on Private International Law, and Dr. Marcin Czepelak, Secretary of the Permanent Court of Arbitration Administrative Council. Dr. Rena Cristina Koya-Malaya, Ambassador Malaya's spouse, who is currently in the Netherlands for a short holiday, also graced both events.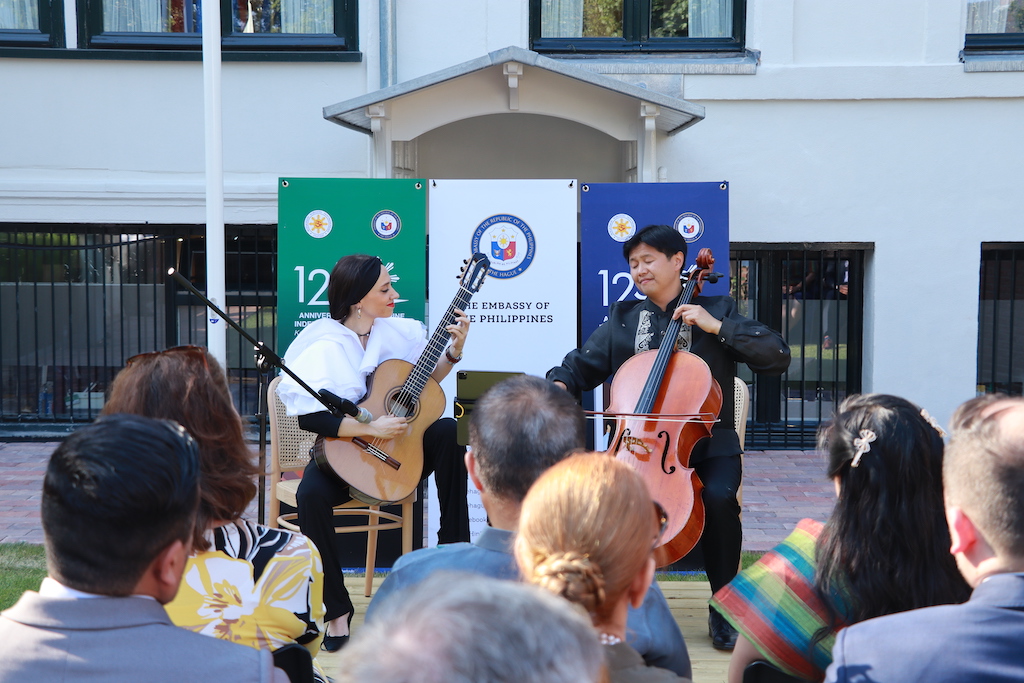 Delegates from the Permanent Court of Arbitration were also well present, as well as members of the diplomatic corps from different countries, and the Dutch and Philippine business communities.
In his speech, Ambassador Malaya highlighted the rich history of the Philippines and its struggle to break free from Spanish colonization and becoming Asia's first republic. He also paid tribute to Philippine National Hero Jose Rizal, whose bust will be prominently displayed in the embassy garden.
Sumptuous Filipino spread
Filipino duo chef Rolando (Chef Lau) and Jacquieline (Chef Jac) Laudico treated the guests to a sumptuous spread of traditional Filipino products prepared with a modern twist: Chef Lau's kinilaw (Filipino ceviche) with crispy radish and suman panna cotta and Chef Jac's specialty as a patisserie. Both chefs are currently on a food diplomacy tour to promote Philippine cuisine in Europe.
It was impressive to see how the Philippine Embassy in the Netherlands have had consistently and tirelessly held numerous events since the big renovation. It has engaged the Filipino community in different collaborations and opened its doors and halls, not just for consular affairs, but to continuously promote Filipino business, culture, cuisine, and tradition, a venue that welcomes us like home.
Special thanks to PH Embassy official photographer Kieren Roevi Batiles for the photos provided for this article.