---
Michelle Aldana, actress and former beauty queen shares her expat journey from Germany to South Africa and how she had found bliss in this part of the world.
---
"Where is Michelle Aldana now?"
A beauty pageant fan posted this question to an Instagram post of past Miss Asia-Pacific International Filipino winners. Another fan answered with a link to a 2006 article written by entertainment columnist Ricky Lo saying that Michelle was now based in South Africa. Along with the reply was Michelle's Instagram account.
Through this social media exchange, The Filipino Expat Magazine was able to contact Michelle, and she agreed to share what really happened during her absence. A fresh and jolly Michelle Aldana greets me on the day of our Zoom interview from her house in Johannesburg, South Africa. With her hair tied in a ponytail, wearing a gray sweatshirt, and no make-up on, she seems not to have aged at all; still the same Michelle Aldana I remember in the 90s.
Born in Sta. Maria, Bulacan, most of Michelle's childhood was spent in Manila except for the weekends when she stayed in the province. "It was a happy childhood but not easy. My father was very protective. I was an only child for seven years before I had my siblings. I had a very limited interaction with other people. My routine was house-school-home again." Despite this, Michelle describes herself as an extrovert kid who liked being with people and asking a lot of questions.
The lucky year of '93
Michelle grew up to be strong-willed and independent. During holidays, when she was ten, she worked at her aunt's restaurant in Bulacan, waiting on tables together with her cousins. At 17, she left home and supported herself to school working as a commercial and print model.
1993 was her lucky year. While she was in 2nd year college working as one of the Press Relations Officers at Euphoria disco, she was discovered by Viva Films' big boss Vic del Rosario who signed her up to be one of their stars. It marked her official entry to Philippine showbiz. She also tried joining the country's premier beauty pageant, Binibining Pilipinas. She went for an interview but had to leave early because she had an audition for an Eye Mo commercial. She got the part for the ad but lost the chance to compete at Binibining Pilipinas.
"Binibining Pilipinas could have been a good opportunity for me, but it was not meant to be." Michelle smiles as she recalls how some people thought she walked out on Binibining Pilipinas because she didn't want to compete with Ruffa Gutierrez who was rumored to be an early favorite for the crown. But it didn't take long for Michelle to have her own crown, or rather, two crowns. She joined Mutya ng Pilipinas and won. Later that year, she bagged the 1993 Miss Asia Pacific title. She was only 19 when she bested the candidates from around the Asia-Pacific region. She capped off 1993 by doing her first movie with Philippine superstar Fernando Poe Jr.
Michelle's career was picking up. She starred in a string of popular films and was part of the noontime show Chibugan na. In 1996, she surprised her fans and critics with her brave performance in the critically acclaimed Tikoy Aguiluz's film Segurista. But despite the success she was enjoying, Michelle's heart was in another place.
"I thought Segurista would be my platform to do more serious and creative things. But offers were mostly sexy roles which I declined. Viva Films was very good at taking care of my career. At that time I had just earned my Bachelor of Arts degree in European Languages majoring in French at the University of the Philippines and I realized I had an opportunity. I had been traveling to Europe years before and I wanted to go back. My German fiancé wanted to move to Germany. When my contract expired, I decided not to renew it. It seemed inevitable."
There were also other reasons leaning towards abandoning her acting profession.
"I never thought of acting as a long-term profession. Also, I was never a darling of the press. In fact, I thought many of them didn't like me. Looking back now, I realized it was only my insecurities that prevented me from connecting with them."
The desire to travel, learn more and apply this learning was getting harder to resist. "My father had inculcated in me the value of education and what I had achieved academically was something I had to put in good use. I wanted to explore that side. I wanted to go into diplomatic service."
In 1998, at the peak of her career, Michelle Aldana bade her showbiz life goodbye, without any fanfare.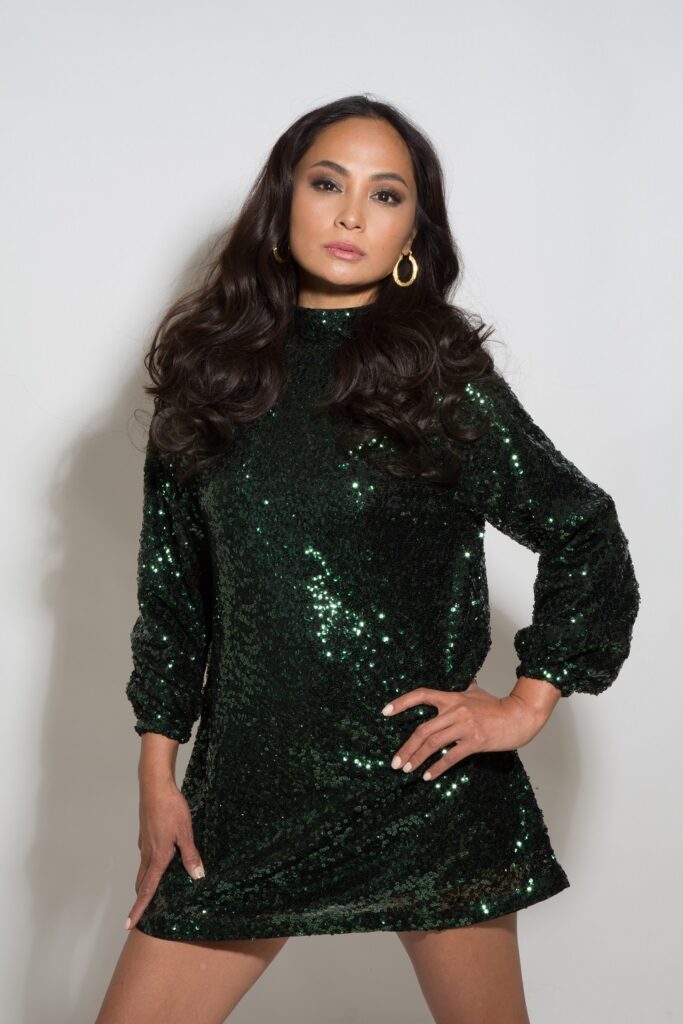 Freedom in Europe
Michelle found her first home in Stuttgart, Germany. "Stuttgart was fun but living away from the comforts of home was challenging. In my first week there, I got splattered with burning oil when I tried to cook and I had to be taken to the hospital. I didn't know how to cook. It was tough." Michelle shares with a laugh.
Europe gave her the freedom she didn't enjoy when she became a celebrity. In Germany, she could be herself without people or the press judging her every move. She also dared to go out of her comfort zone.
"It was exciting and at the same time daunting. I wanted to succeed and I needed to adapt. All of a sudden, I wasn't thinking about making a living. I was thinking of actually living."
She studied German, practiced with the locals and searched for an agency to start modeling. After a year, Michelle and her husband moved to Munich where they had their first child. She juggled being a mother, an English teacher and a model.
Moving to South Africa
Three years later, Michelle's husband's work moved them to South Africa. At first, she had reservations about their move, primarily pertaining to safety issues. She was apprehensive and a little scared, but when she went to see the country before moving, she had a change of heart. "South Africa is very different from what I had in mind. The people are nice. It is a beautiful country with an amazing climate. Coming from a 90 sq.m. apartment in Germany to getting a 2000 sq. m. house with a swimming pool was like wow!"
In October 2002, Michelle's family moved to the gated residential area of Silver Lakes in Pretoria, one of South Africa's three capital cities and also the seat of the executive government. Life in Pretoria was totally different from her life in Munich. Michelle was a stay-home mom. She couldn't work because she didn't have a work permit. Her days would find her running the house and taking her son to his physiotherapy and occupational therapy sessions.
"My son was born prematurely and was only able to walk when he was two years old so he needed therapy." In her spare time, she collaborated with the Philippine Embassy in some projects and learned to play golf. However, the initial amiable relationship between Pretoria and Michelle wore out too quickly. She was not feeling the vibe of the city. She wanted to build deep connections with people, especially the locals but her social circle was only limited to her fellow expats. "As an expat, the locals in Pretoria saw me as an outsider, they didn't see me as someone who would be staying for a long time and therefore not worth building a proper relationship with."
Michelle made her husband choose between leaving Pretoria or moving out of South Africa. "I was in my 30s. I was looking for excitement. I needed people, I needed stimulation."
In 2005, Michelle's family packed their bags again and moved to Johannesburg where her second child was born.
Saying goodbye to a dream
Michelle immediately loved the energy of Johannesburg which is a lot more cosmopolitan than Pretoria. She also met a fellow Pinay who became her close friend. With like-minded people nearby, it helped her appreciate her new home.
Working for the Philippine diplomatic service had always been her dream. Michelle finally applied for the job. She passed the first exam at the Philippine embassy in Johannesburg and went to the Philippines for the second part but due to some changes in the exam dates, she had to back out. "The exam was moved from April to July. I couldn't stay in the Philippines longer because of my children so I missed it." This was also the time when cracks in her marriage started showing. Michelle said goodbye to her dream. For now.
Michelle and her husband separated in 2008. "It was for the best. Children needed a happy home to be happy. Ours wasn't." Michelle initially planned to take her children back home to the Philippines but it proved complicated and difficult. "I decided to stay in South Africa because the children needed a father. They were so young. It was not easy for me to see them without a father. He was not a bad guy."
The radical turn of events in Michelle's life only made her more resilient as ever. With the help of her best friend, she tried her hand at selling Paul Mitchell salon products to retailers. It gave her financial stability for a year. Her next concern was to find a job and get a work permit. In South Africa, one has to get a job offer first before applying for a work visa. And since the visa is employer-specific, one is only allowed to work for the South African employer who extended the job offer. Once the employee changes jobs, it will be back to step one. Michelle landed a job as deputy COO of a BPO company and eventually got her work permit in 2010. She was in charge of operations. "It was difficult. A culture shock. There was racial tensions between the black and white workers. Black South Africans were very wary of non-South Africans taking their jobs. They were suspicious of me because I ́m Asian, an outsider."
The tension between Michelle and the CEO started to build up at one point.
"It was hard to understand that I was the one being targeted. Our CEO wanted to get rid of me without pay. He conducted some sort of a mock trial in the office and had the people testify against me. These people were under me and they knew that I didn't do anything wrong. It was theatrical. They did it because they had to keep their jobs. It was sad because I thought there was camaraderie at work. I was stunned to hear them accuse me of being racist. Me? Racist? It was incomprehensible." Michelle fought back and took the company to a labor court and won.
Finding bliss in Johannesburg
Michelle stayed focused. She took advantage of having a full time and reliable house help to allow her to do things for her self-growth. She finished a Masters Degree in European Literature at the University of Witwatersrand. She also trained to become a certified yoga teacher.
After her divorce, Michelle didn't expect to give love another chance that soon. She met her future life partner, Edward Burke at a party. Was it love at first sight? Michelle says yes, it was. "I attended an anti-Valentine ́s party. Arriving at the restaurant, I passed a table where Edward was seated. There was a kind of recognition when I saw his face for the first time. It was as if my soul recognized its twin. I moved on to find my friends. But this guy ́s face stayed in my mind." 
Michelle and "that guy" ended up seated at the same table. "We found common interests. I didn't know it was going to lead to something." Edward was based in the UK and was only in Johannesburg to visit his mom. He eventually stayed, and they got married in 2014. They have one daughter. The following years found Michelle thriving and growing professionally. In 2017, Michelle created SA Models, her own modeling agency that helps young models find their place in the industry. She also signed up with one of the leading talent agencies in Johannesburg doing a few SA TV series, a documentary film, a couple of HBO TV series and several commercials for big brands such as Samsung, Allan Gray and WHO.
This year, she was part of the South African tourism global campaign as well as the Heineken worldwide ad which was released last July. In 2018 and 2020, she became part of Generations, The Legacy, one of South Africa's longest running TV soap operas. She plays Mei Yang, a Chinese immigrant. She was the first ever Asian supporting cast in the popular series.
The importance of community
Whenever she can, Michelle finds time to participate in cultural and social activities organized by the Filipino association in Johannesburg. She set up the Filipino House of Commerce in South Africa, liaising with South African businessmen for the Philippines to bring products to South Africa.
"Living abroad has taught me many things. One of which is the importance of a community. I understand it better now that I am older. One needs people to learn from and share ideas with. A support structure is important for one's mental well-being."
Even if she has been away from the Philippines for 24 years now, Michelle has never forgotten her roots. She visits the Philippines once in a while to see her family and friends or attend social events like the Miss Asia Pacific coronation. Last year, she was supposed to do the TV series "Love You Stranger" with GMA7 but due to COVID-19, the filming was repeatedly postponed and she had to beg off. But every time Michelle misses an opportunity, there is always something better that comes her way.
In June of this year, Michelle flew again to the Philippines to star in the afternoon primetime drama Nakarehas na Puso alongside Jean Garcia and Leandro Baldemor. "I am excited to be back and doing what I love. With age, I have more experience to bring into my craft."
Courage to leave show business
As an actress, a model, a yoga teacher and an entrepreneur, Michelle wears a lot of hats. But she considers being a mother and wife her favorites. "My family keeps me grounded. My husband and I share the same values. We wake up in the morning, exercise, and then meditate together."
Dustin, her 21-year old son is studying in Germany while her two girls, Kai and Io are living with her in Johannesburg. Though the kids consider South Africa their home, Michelle also sees her family living in the Philippines at some point. "It would be great for the children to know their roots. But we haven't made concrete plans as of yet."
Michelle believes that everything happens in its own time. "That time, I had to go. I had to learn. I had to grow. Now, I have three wonderful kids, and one beautiful husband. That decision led to where I am right now and I am grateful."
And to those asking where Michelle Aldana is now, she has been everywhere. She followed her heart, she chased her dream, she fell down and bounced back, stronger and wiser. Standing like a true queen who never yields to be vanquished by her enemies.