No matter where we are in the world, Filipinos abroad always look forward to celebrating Christmas back home with families and friends around a table full of mouthwatering Pinoy edibles. The Filipino Expat Magazine asked 12 Pinoy chefs and restaurant owners from different parts of the world to share with us their favorite Filipino Christmas food!
A Filipino Christmas is not complete without the presence of the Christmas ham, one of the main "fixtures" at noche buena. The most popular type is the Chinese ham that is saltier and firmer in texture. Another favorite is the pineapple glazed ham topped with pineapple and cherries.
For Amsterdam-based Rhea Topacio-Rogacion, owner of Luneta Ice Cream and Ubeness, Chinese ham was very special in her family.
Embutido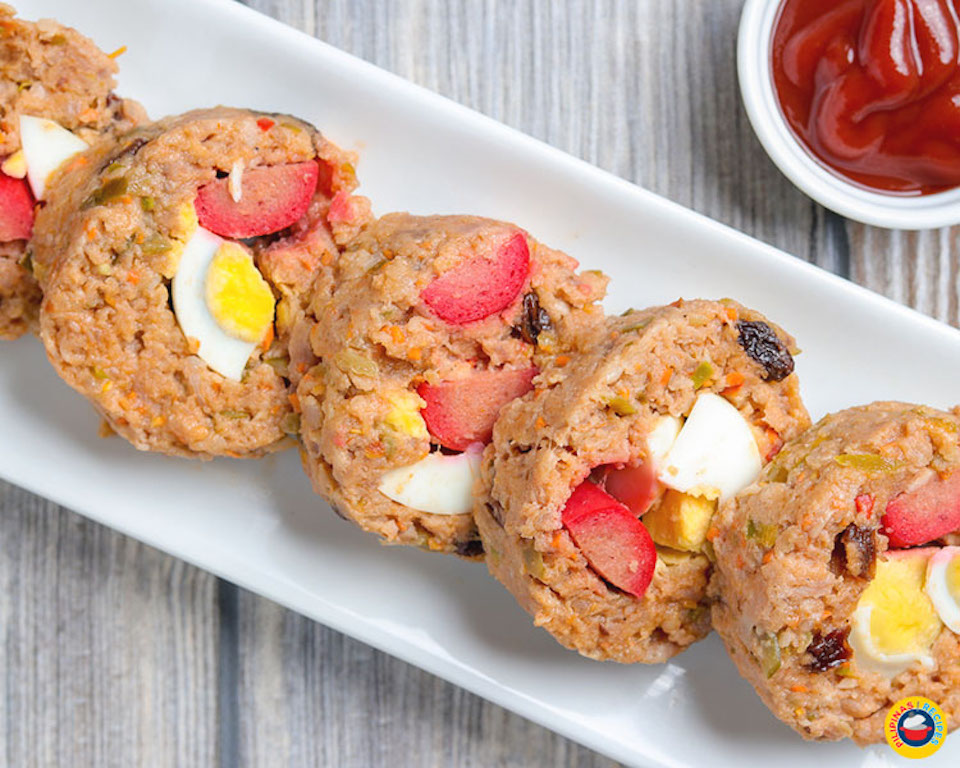 Embutido is a Filipino meatloaf. The word "embutido" comes from the Spanish word "embutir" which means "to stuff". Its main ingredients include ground pork, sausage or hotdogs, eggs, sweet pickle relish tomato sauce, cheese, minced red and green bell pepper, raisins, carrots. The meat mixture is wrapped in a sheet of aluminum foil and then placed in a steamer to cook.
Baicel Agdan, owner of La Gran Familia restaurant, Barcelona, Spain, remembers her childhood Christmases with fondness. She considers embutido as one of her favorite Christmas dishes.
Filipino macaroni soup
For Barcelona-based chef Mario Llorente Babol, Christmas will always mean a hot delicious macaroni soup. This soup is not only simple to cook but the ingredients are easy to find and cheap to buy. A bowl of chicken, chopped ham, elbow macaroni, celery, diced carrots and green cabbage that go with a tasty broth mixed with evaporated milk is ideal to warm the tummy from the cold Christmas breeze.
Queso de bola
Pinoys are not typically known to be cheese-lovers. But at Christmas, it is almost a must for every family to have a big ball of cheese wrapped in red sitting prominently in the middle of the table. Queso de bola, which literally means a ball of cheese, is considered to be a symbol of wealth and good luck.
Crispy pata
Crispy Pata or crispy pork leg is an all-year favorite Filipino dish and pulutan. Cooking crispy pata is a bit tedious and challenging because it involves boiling and deep-frying the pig trotters or knuckles at the same time keeping the pork's skin crunchy. Once it is ready to eat, it is both sinful and heavenly especially when dipped in a spicy vinegar mixture.
As the year comes to a close, everybody wishes blessings and long life. And for Filipinos, noodles symbolize long life. For Bologna-based chef Cecilia de la Cruz and Angelie Authentico, owner of Authentic Angels Bisayang Restaurant in Dubai, pancit canton tops their list of Christmas favorites. 
Pancit canton or "cantonese noodles" is forever popular in every party in the Philippines. So it's no surprise to see a tray of stir-fried noodles with strips of chicken, shrimps, sliced pork, carrots and cabbage on the table ready to be devoured.
Fruit Salad Pinoy Style
After feasting on the delicious main dishes, it is time for dessert. And the king of them all is the Filipino- style fruit salad. Fruit salad is a mix of diced fruits normally from a canned cocktail. A bowl of colourful chunks of pears, lychees, pineapples, grapes and buko slathered with all-purpose cream (or condensed milk) and syrup. Definitely a delight to the eyes and tummy especially for the kids.
Bibingka
Bibingka is a Philippine cake made from slightly sour grounded fermented sticky rice mixed with water, butter, sugar, cheese and coconut milk with salted eggs as toppings and is traditionally cooked with banana leaves.
Puto Bumbong
Another traditional Filipino cake at Christmas is puto bumbong. This purple rice cake is made from white and purple glutinous rice steam cooked inside greased bamboo tubes. Traditionally, puto bumbong is normally sold outside churches for mass-goers to enjoy after the simbang gabi mass.
Puto maya with sikwate and sweet ripe mango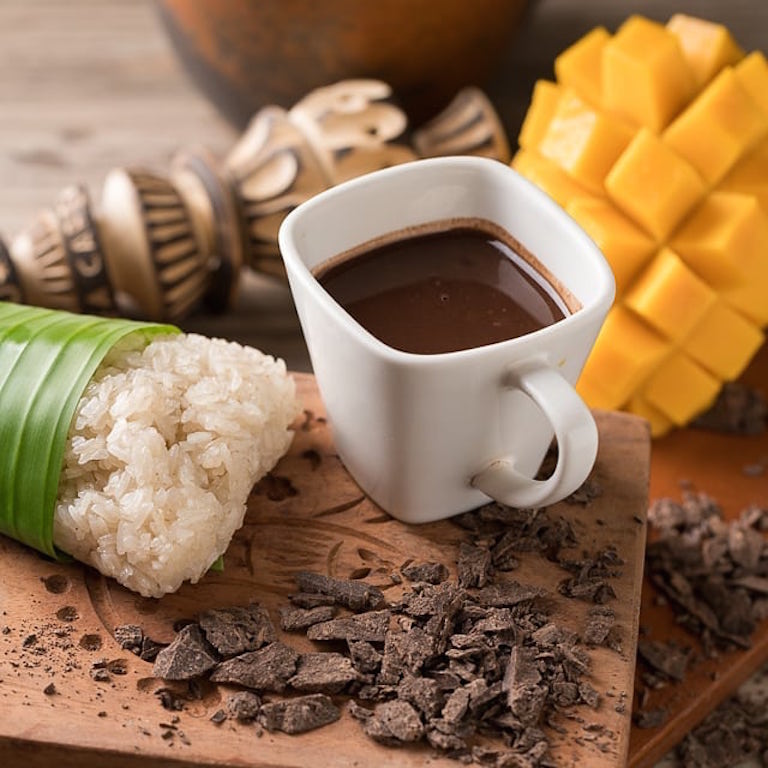 Cebu's mouthwatering sticky rice cake with juicy mangoes and hot chocolate is also perfect for the holiday season. Puto maya is made from steamed glutinous rice, ginger juice, and coconut milk and wrapped in banana leaves. Sikwate is hot chocolate prepared by mixing tablea (cocoa tablets) and brown sugar into a pot of boiling water and stirring it until combined and fully dissolved.
Nats Sisma Villaluna
Nats Sisma Villaluna has been serving the Filipino community in Spain for more than 13 years. His volunteer works include teaching Spanish to Filipinos, and as artistic director of the Coro Kudyapi, a group of musically inclined young Filipinos in Barcelona. His passion to serve the Filipino community now extends to other countries in his role as Publisher and Editor-in-Chief of the new The Filipino Expat Magazine.