---
Ready for the new school year? With this Pinoy-flavored grocery list meal planning Filipino food has gone a bit easier.
---
The summer school holiday is almost over. In less than a week, the school grind will be starting again, waking up early, preparing kids' lunch, school runs, and dinner prep. Parents know the drill!
One thing that would make it easier for parents (and kids) to settle back into the normal work and school routine would be meal planning. Planning and preparing your kid's school lunch and family dinners beforehand save time and energy. An important part of meal planning is, of course, grocery shopping.
If you have been on a holiday in the Philippines and is craving for Filipino food, or simply want to share your favorite childhood lunch or meals with your kids, here is our Pinoy-flavored back-to-school grocery list to usher in the new school year.
Pinoy Kitchen Hotdogs
Sandwiches prepared with tender, juicy hotdogs, laden with ketchup and mayonnaise. Or simply hotdog with rice in the morning as breakfast. With Pinoy Kitchen Hotdogs, especially their party size variety and jumbo varieties, you can prepare this beloved Filipino breakfast at home.
What's great about Pinoy Kitchen Hotdogs is that they use healthier and EU-approved ingredients so you don't have to worry about unnecessary preservatives. They also have tocino, if you are team tosilog for breakfast.
Pinoy Kitchen Hotdogs and Tocino are available in Asian and Filipino grocery stores across Europe or online via www.asianfoodlovers.com
Making healthy meals is easier with these canned Filipino fish brands.
Canned Fish
Whipped up a quick and healthy dinner for the family with tuna spaghetti or tuna sardines. Make healthy breakfast with tuna or sardines omelette. Topped these meals with fresh herbs like basil or parsley and you have an easy meal everyone would love.
Beloved Filipino canned fish brands Century Tuna and Mega sardines guarantee quality. Canned straight from the net, they preserved the true flavor of tuna and sardines that come from Philippines tropical waters.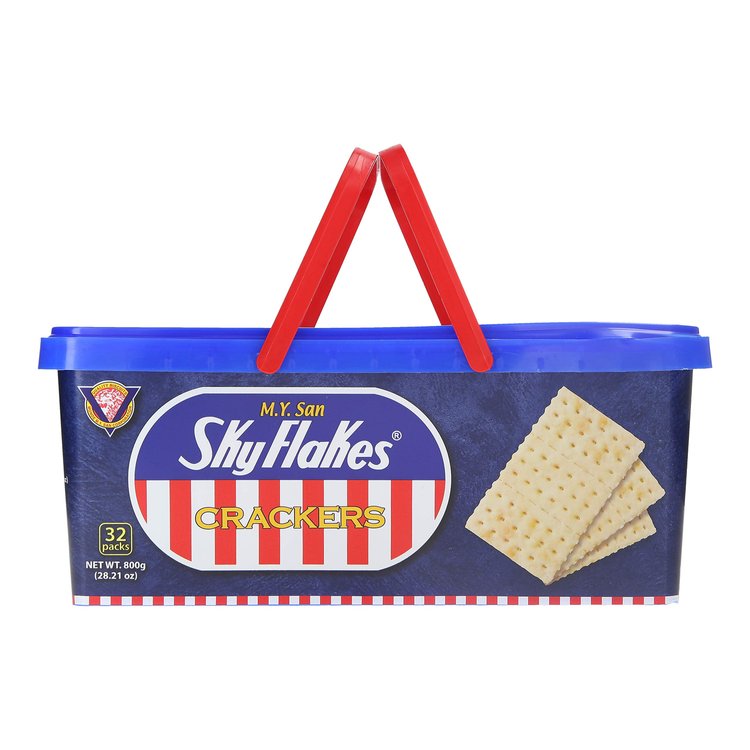 M.Y. San Skyflakes Crackers
Quick snack during work breaks? Or when your kids come home from school? M.Y. San Skyflakes crackers are perfect for that. Its practical single packaging makes it very handy to slip into your bag to grab when hunger occurs. In addition to the original flavor, they come in flavors like chocolate and cream filling to satisfy every taste. You can top it with cheese, hummus, jam and even peanut butter.
If you are not a fan of plastic, M.Y. San Skyflakes crackers also come in an 800-gram family pack.
Fruit Jams
Perhaps the easiest sandwich to make, jelly or jam sandwich. And the kids love them too. They also taste great as pancake fillings or on your yoghurt for breakfast.
So always have a jar of fruit jam standing on the counter for days when you are not so creative with kids' lunch.
If you're tired of the usual strawberry jam, try tropical fruit jams from the Philippines like pineapple, guava, coconut jam and of course mango.
Mama Sita Cooking Mix
Although we all want to be cooking from scratch and get the authentic Pinoy flavors we learned from our moms, let's admit it, life is busy in this part of the world. We cannot be standing behind the kitchen every night, making home-made sauces and marinades for our Filipino dishes.
The good thing is, we can buy pre-made mixes that stay true to Filipino flavors.
Mama Sita has mixes and sauces for a variety of Filipino food like caldereta, adobo, kare-kare, sinigang, and a lot more. These dishes are easy to make in big batches in the weekends, and are perfect for freezing so that you only need to re-heat them in the evenings. More time for kids or for yourself.

Dried Fruits and Nuts
Eating dried fruits and nuts is a healthier way of snacking than chips. Being a tropical country with an abundance of fruits, we export a variety of dried fruits and nuts. Think of dried mangoes, banana chips, dried pineapple, peanuts, corn or green peas. Philippine brand from Cebu is one of the most popular brands of dried fruits available here in Europe.
Don't wait until the weekend to make you grocery list. Write them down and visit your local suking sari-sari store.
AsianFoodLovers.com has a wide selection of Filipino food online. Delivery to the Netherlands, Germany, and France for orders over 50 euros. Get 10% discount from your order by using the code FILIPINO10 before check out.