---
Filipino-Australian actress Susana Downes of the hit comedy-drama series The Unusual Suspects shares how she finally found her place in Australian show business.
---
"Doors only open when the time is right." So goes one of the first lines of Filipino-Australian actress Susana Downes in The Unusual Suspects. She plays Gigi, a naive millennial who comes to Australia to work as a cleaner but becoming lifestyle coach is what she really wants. She forges a friendship with Birdie, a lonely Australian neighbour and sways the latter to take her as her life coach. During the audition, Susana got herself dressed up and made sure to practice her accent, to not sound like a tita but a millennial Pinay. 
"Gigi opened the doors for me. Since landing the role, a lot of things have been coming through in my life. Gigi came to me at the right time. I was going through the worst depression of my life that time. I was in a place where I was trying to figure out who I was. And on the day, they told me I got the role, it kind of turned everything around."
Born in Sydney to a Caviteña mom and Australian dad, Susana describes her childhood as both amazing and difficult. "I was the kid who loved putting on shows for people. I was a performer. But I got bullied in school for singing at assemblies and always being picked out of class because they needed me to rehearse on something. The kids hated on me."
But Susana didn't let hate pull her down. She had a very balanced Filipino-Australian upbringing, and she was loved by her family. To fight back the bullies, she continued performing. She didn´t back down though she knew that it would be a big battle ahead.
A family of performers
Music plays a very important role in Susana´s life. Her dad would play the guitar for her as a baby and her mom would sing to her. "My mom's brothers are good singers. My oldest Tito was called the Filipino Michael Bublé by his friends. I have a lot of musicians on my dad side of the family."
Acting is in her blood too. Her great uncle is Augusto Victa, the well-loved Filipino soap opera actor in the 80s. When Susana was 11, she took acting lessons and that was when she realized she loved being on stage, singing, acting, and dancing. She did her first musical when she was 14 playing the role of Gabriela in High School Musical.
She also did a musical production of Noli Me Tangere where she played Maria Clara. It ran for three weeks and gained positive reactions from Filipino and Australian spectators. 
'We wanted more people to watch it. It showed us the different side of the Philippines in the 1800s. It was such an eye-opener seeing how prevalent the Spanish colonization in the Philippines was."
Apart from performing in musicals, Susana also tried her hand in pageantry where she won the Miss Earth Australia crown and had the chance to represent Australia at Miss Earth 2019 in Manila.
Heart and sunshine
Susana has been doing TV commercials since 2014. She was part of the SBS mini-series called Dead Lucky that aired in 2017. Then came the Unusual Suspects and her role as Gigi gave her the chance to showcase her comedic talent. "Gigi is funny and annoying. You can´t hate her because there is something in her that´s endearing. Gigi is the heart and sunshine of the show. She has such a positive outlook in life, such optimism and she brings joy to Birdie."
She feels extremely lucky to have worked with both Filipino and Australian actors in the show. Their chemistry is just so powerful on screen. "I really bonded with my three Filipino co-actors, we went to have lunch and hang out and I felt I had so many Ates making sure I was okay. With my Australian co-stars, they were amazing. Everyone wanted to know more about the Filipino culture."
Struggles and challenges
Susana's journey in show business has not always been a walk in the park.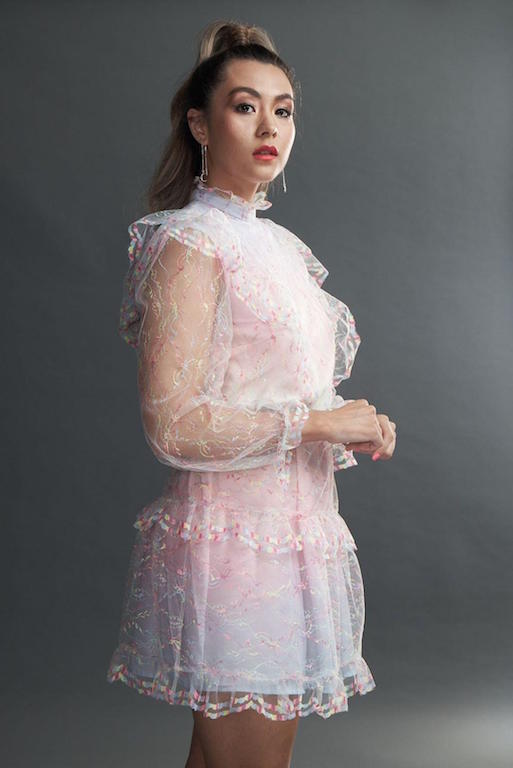 Whenever she fails to book a part, she tries to see the bigger picture. The producers just have a specific character in mind, she tells herself. It could be the tiniest detail that defeated her from the persona that fits the role.
As she gets older though, Susana has understood the problem of diversity, the struggle for more representation and making sure that people understand that Australia isn't home to just blue-eyed, blond Westerners. It wasn't until six years ago that she got more roles in commercials and TV series. Suddenly producers wanted to cast more Asian Australians in their projects.  
The industry has taught Susana to be resilient. By not giving up easily and getting back on the horse when you get knocked down and still living that dream you have always had. Susana has learned to toughen up and fight back to survive this dog-eat-dog world of show business.
Tallest Kim in History
Few years ago, Susana was very close to playing Kim in a pro-amateur production of Miss Saigon in Sydney. She was the understudy, and she knew the show like the back of her hand. She was ready. She rehearsed for months, was measured into the costume but never got to play the role. She would have been the tallest Kim in history.
As they say, everything has a reason, she may not have grabbed her dream role, but The Unusual Suspects gave her Gigi. After the series came out, people began noticing Susana. She got busier and she has been doing a lot of self-tapes. Apart from acting and singing, she is also into retail, video contents, and she has just started her pageant coaching business. Susana is no longer in the place where she doesn't know who she is or where she is going because she knows what path to tread and each step is worth enjoying. With the rate her career is going now, sheis excited about what the universe has for her. Perhaps a chance to play another dream role of hers: Marvel's Pinay superhero Wave. And why not?
Nats Sisma Villaluna
Nats Sisma Villaluna has been serving the Filipino community in Spain for more than 13 years. His volunteer works include teaching Spanish to Filipinos, and as artistic director of the Coro Kudyapi, a group of musically inclined young Filipinos in Barcelona. His passion to serve the Filipino community now extends to other countries in his role as Publisher and Editor-in-Chief of the new The Filipino Expat Magazine.