---
Twenty-something entrepreneur Paola Amores, owner of Filipino grocery store Amores Oriental Mart in London, proves that, to run a thriving retail business in the UK, fortune indeed favors the brave.
---
While it is an unacknowledged truth that Mondays are universally dreaded—seeing the word can send people into varying states of doom and gloom—Paola Amores, the entrepreneur behind the increasingly popular Filipino grocery store Amores Oriental Mart in London, revels in it. "Mondays are the best part of my week," the 25-year-old admits in an interview with The Filipino Expat Magazine.
It isn't even because Mondays at Filipino grocery store Amores Oriental Mart in London are easy. Quite the contrary, Mondays happen to be the grocery's busiest day as delivery orders need to be gathered, packed, and dispatched by 5 p.m. directly from the store at North Finchley—a suburb in the London Borough of Barnet—to the depot, to guarantee her promise of next-day delivery. And as her partner and helpful family members have full-time jobs, Amores does all these on her own while attending to a steady stream of walk-in customers.
Raising the stakes
Having graduated with a degree in business and finance at the University of Westminster, Amores recognized that when it comes to business, the higher the risk, the higher the reward. Add a global health crisis that decimated enterprises worldwide to that equation, and the risk increases tenfold. But even as the odds were stacked against setting up shop during the Covid-19 pandemic's apocalyptic tour across the UK, Amores—who has worked at an Asian store since she was 16—strongly felt it was worth the gamble.
"I wasn't scared to open a food business at that point because no matter how much we struggled, Filipinos are always going to spend on food. The pandemic actually ended up being good for us," she relates. With government restrictions shuttering restaurants in the country, people were staying at home, and as was the trend worldwide, some ended up discovering a love for cooking their own meals.
That trend, and the fact that the space we found was quite small, which means our expenses wouldn't be as high convinced me and my partner to invest our money on a new venture as we couldn't get a mortgage straight away anyway. Sumugal lang talaga kami.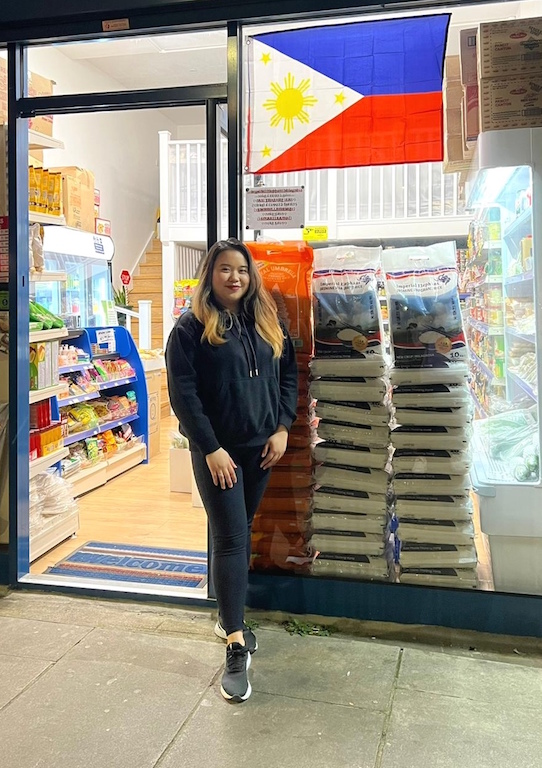 Some bets come at an unexpectedly high price, however, as Amores would discover months into running the business mostly by herself. Being the 80% owner of the business meant she was the one on top of things—from sales and inventory to daily operations and marketing. Even with the extensive experience she had gained from her previous employment at an Asian shop, it was a different story entirely when it was her life savings at stake. "I thought the only skills that I needed to learn was how to do taxes and deal with government-related matters. I did not expect to struggle so much with time management. Doing inventory, monitoring stocks, sorting out the bills, and dealing with suppliers—all on my own—all of which were made doubly hard because the pandemic cut down everybody's work hours, became very frustrating," she relates.
In the trenches
Amores' business-related frustrations eventually seeped their way into her personal life. Ironically, the more her business gained steam, the more her relationship with her partner deteriorated. "When we started the business, we were still together as a couple. Because the business consumed so much of my time and energy, we saw less of each other and soon there were a lot of misunderstandings. We ended up breaking up," she shares, lamenting, "the first time I finally achieved something, it came at the cost of my personal happiness."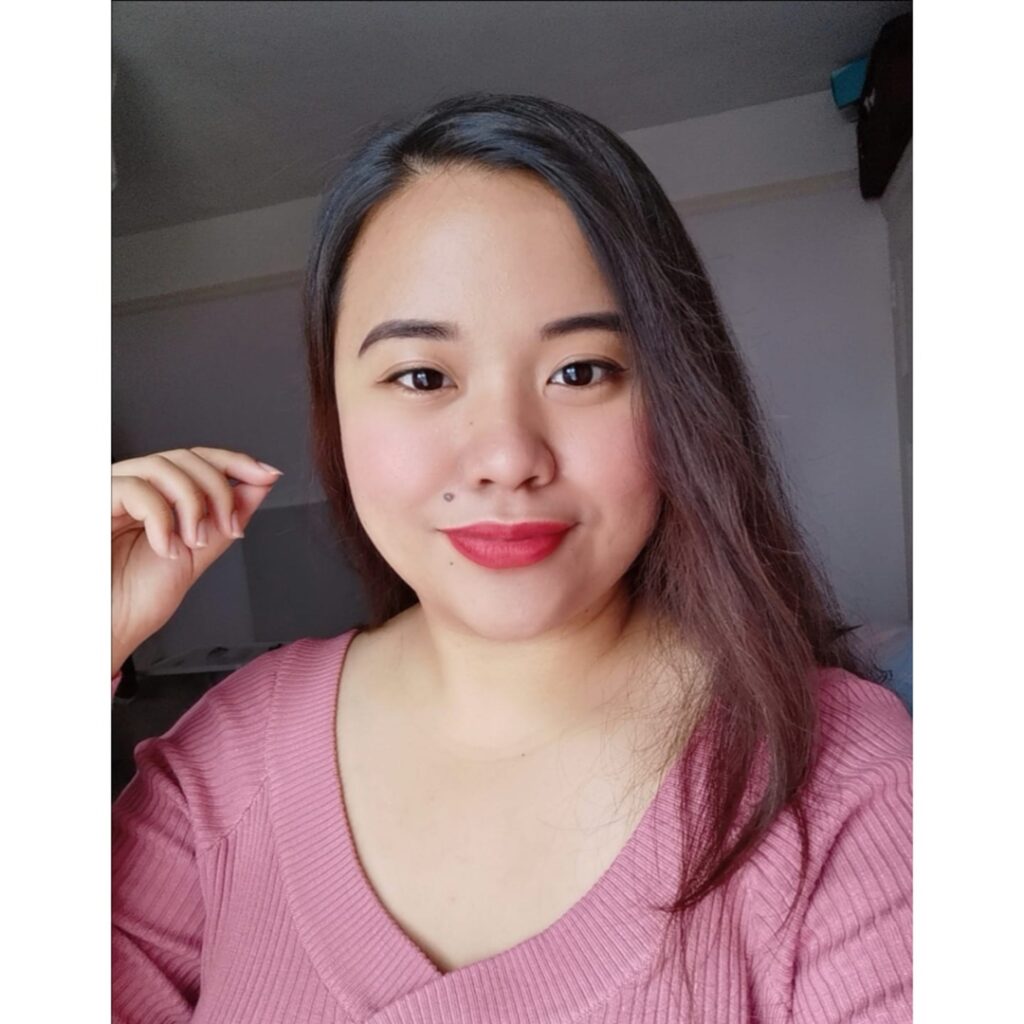 While things are now amicable between the former couple—"My partner still owns 20% of the business, and he helps out a lot; there is no hatred between us," she is quick to clarify—Amores admits to having blamed the business for "everything crashing."
As with any ending, tumultuous times followed, and to "keep calm and carry on" was an impossibility. "I stopped talking to suppliers even though I knew we were running low on goods. I didn't update our online platform, and I was so behind on accounts. Sales was also really affected because I was not motivated to talk to customers," admits Amores, adding that it had to take the business inevitably being in the red—its state mirroring her state of mind—to rouse her into action.
See Also
The road ahead
While it took a good deal of time and effort to pick up the pieces, Amores now counts herself among the 5,090 Filipino business owners that have set up shop in the UK—the topmost non-British nationality contributing to the economy, according to a collection of data obtained by ETX Capital. 
Being among this network of Filipino business owners has proven to be valuable for the young entrepreneur. "One of the best pieces of advice we've been given is to keep putting the money back into the business consistently for three years. We just get our salaries, and the rest is invested back into growing the store—that's what we're doing now," says Amores, adding that her current focus is to enhance her relationship with her clients. "Every business decision—whether marketing or branding, etc.—must always answer, will this click with our customers? I also make sure to answer any inquiries on Facebook as soon as possible," she relates, as some of her clients come all the way from Sussex and other places outside of London. "Some come here once a month, and they buy a lot—pakyaw—so I want to make sure na sulit ang biyahe nila."
All that hard work seems to be paying off. What started as a grocery initially targeting Filipinos ended up expanding its merchandise to include other Asian food items; non-Asian customers now also make up majority of the store's walk-in clients. "My partner and I were talking about this recently, and we saw that sales and foot traffic are picking up—especially from our walk-in customers," Amores shares, adding that this is a far cry from their early days when they would often do nothing in the store for hours. "Now I rarely get a break because there are customers that come in throughout the day."
Amores shares that while keeping the store running in North Finchley is her topmost priority, she is also entertaining the idea of expanding. However, with uncertainties still surrounding Brexit, rendering her and other business owners from seamlessly shipping goods from the UK to other parts of Europe, she says it would happen all in good time. "There is already the demand—we've had a lot of people from Spain, the Netherlands, and all the way from Greece inquire about whether we ship to other parts of Europe—and there won't be a problem in terms of supply. We're just waiting on Brexit, for them to come into an agreement with the EU so we can send out parcels, but we're ready," she shares.
Filipino grocery store Amores Oriental Mart, North Finchley, London, United Kingdom. www.amoresorientalmart.com
Tricia Morente
Tricia Morente is a journalist and editorial consultant. She has worked for different publications in SouthEast Asia including Manila Bulletin, Seafarer Asia, and F&B Report, among others. Tricia is sole proprietor of www.jetsetjourno.com, where she writes about travel and the occasional epiphany. She is currently based in Madrid.