This was how famous chef, writer, and travel-show host Anthony Bourdain described Halo-Halo, the eclectic Pinoy dessert that non-Filipinos may not easily dig. Bourdain was right, except Halo-Halo does not usually include chickpeas.
Halo-Halo, which literary means mix-mix, with all its ingredients, does not make sense.  But nobody seems to mind because the only sense that matters is your tastebuds!
Halo-Halo is part of every Filipino summer. Young and old alike flock to their favourite neighbourhood Halo-Halo stand on a hot summer day. A long table in front of somebody's house or near a basketball court, with colourful jars of sweetened fruit, shaved ice in a cooler, evaporated milk and leche flan awaits delighted clients seeking respite from the scorching heat. And just like magic, every bite just makes sense.
Now that summer has finally arrived, memories of afternoons eating Halo-Halo with friends and families certainly bring up warm and nostalgic feeling of home. But these magical recollections don´t need to remain just memories. We can now have our Halo-Halo afternoons in Europe and share this delicious Filipino dessert with everyone. Here is how:
Ingredients
Shaved ice
Milk (fresh but preferably evaporated)
Buenas Saging na Saba in syrup
Buenas White Beans in Syrup
Buenas White Coconut Gel (nata de coco)
Buenas Green Coconut Gel
Buenas Langka (jackfruit) in Syrup
Buenas Red Mung Beans in Syrup
Buenas Coconut Strings (macapuno)
Buenas Candied Palm Fruit (kaong)
Buenas Purple Yam (ube) Spread
Lech flan
Crispy young rice (pinipig), if desired
To serve
Tall glasses
Long spoon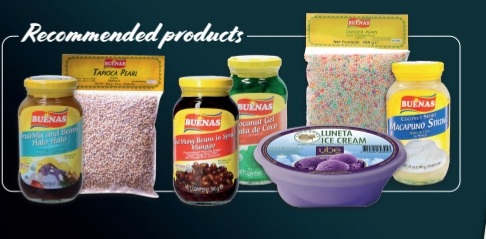 Making Halo-Halo is easy. Once all your ingredients are ready, it is just a matter of assembling them into a beautiful tower of goodness. A proper layering of ingredients ensures that you get the right texture as you eat.
First the heavy ingredients. Fill the bottom of the glass with a spoonful of saging na saba, nata de coco, red mung beans, white beans and kaong.
Add ube spread on top.
Add shaved ice to the brim of the glass. Pressed down to make it compact.
For toppings, add leche flan, macapuno, and a scoop or two of your favourite Luneta ice cream for a creamy consistency. If available, sprinkle with a teaspoon of pinipig.
Drizzle with a generous amount of evaporated or fresh milk.
Serve immediately.
Enjoy!