---
Filipino behavioral therapist Mia Caram Dianda founded Advanced Behavioral Solutions, a company to help children with autism in Oklahoma, proving that you can make the world a better place no matter where you live.
---
Mia Caram Dianda, (47) loves to multitask. While doing our Zoom interview, she virtually takes me with her as she runs her morning errands: driving her teenage daughter to school, grabbing her morning tea at Starbucks, going back home to eat her breakfast and preparing for her trip to the gym before work.
Mia moved to Oklahoma city last summer. "We used to live in Choctaw, a city 27 kilometers away from here. Living here is very convenient. School is four minutes away, work is just eight minutes." Oklahoma reminds Mia of her hometown Bacolod, where getting around is easy. Known for its Southern culture and belonging to the Bible Belt, where Protestant Christianity plays an influential role in the society, Oklahomans are traditional, welcoming and kind. "I like the small-city feel, I feel safe here."
Although Asians only comprise 4% of the total predominantly white population and with only very few Pinoys around, Mia considers Oklahoma a good place to raise a family. "It is not as crazy as Los Angeles."
Unfamiliar paths
Mia holds a diploma in Physical Therapy from the Riverside Medical College in Bacolod City. She wanted to be a neurosurgeon, her mom wanted her to take up nursing. "That was where the money was. But blood and needles did not appeal to me." In 1997, she passed the board exam making her one of the first licensed therapists from her school.
But the excitement was short-lived. "That time, only one licensed physical therapist was hired to do the program and it was the interns who treated the patients." This caused stiff competition among the new graduates and made it difficult for Mia to land a job. She went back to Bacolod to work as a home therapist where she saw patients at their homes, those suffering from stroke and aneurysm.
After a year, she went to Manila and worked for Behavior Management for Autistic Children (BMAC), owned by an Indian family who had a six-year-old son with autism. "I was directly assigned to the boy although I was not that familiar with Applied Behavioral Analysis (ABA).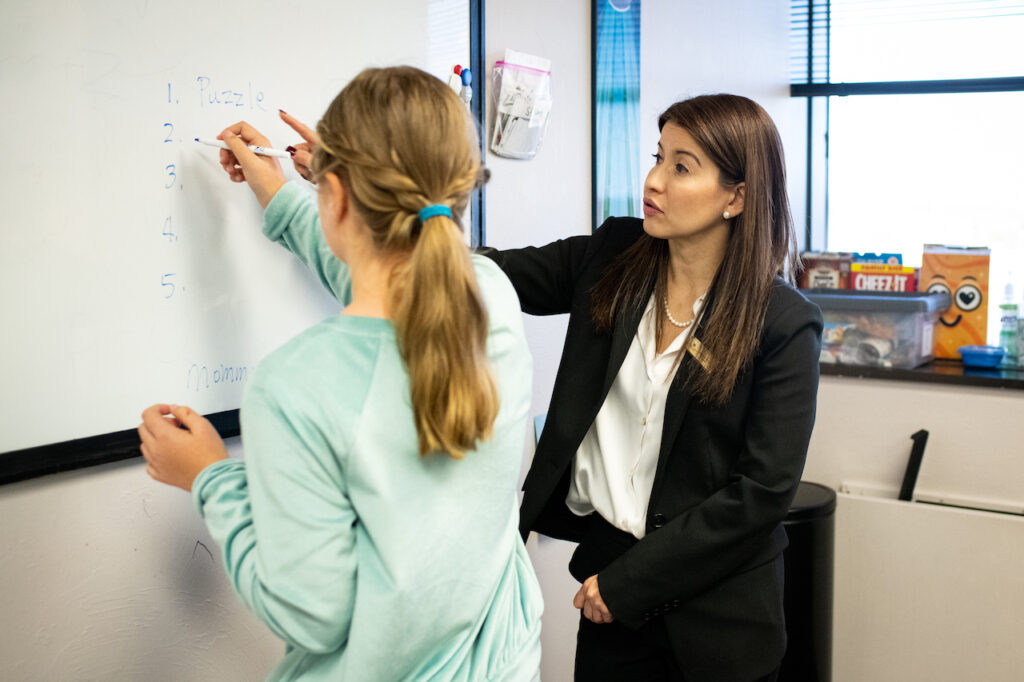 Understanding behavior
As a physical therapist, Mia was trained to work with patients to improve their movement and manage their pain using an exercise-based approach. She didn't have any experience treating patients with autism. "On my first day, I was like, what was I supposed to do? The kid was screaming at me. I got scared because he was hitting himself. I was more focused on what he was doing, not on what he was trying to say. Restraining him made it worse." The boy was non-verbal and could not express himself in a traditional way.
BMAC brought in experts from the United States to train Mia on how to implement behavior analysis. "I learned that as a behavioral therapist, I had to encourage desirable behaviors and reduce unwanted ones. I came to understand how powerful understanding behavior is, that the child was just trying to communicate with me but found it difficult because he didn't have words to say. Knowing this made it easier to help him."
After a year, Mia moved to A Child Can (ACC), where she was assigned to do home therapy mostly with children from affluent families. "In the Philippines, there are two therapists for one kid. One takes data and the other does the sessions. Because of this, only few can afford ABA therapy for their children."
Making it in the US as Filipino
She had always considered working in the US. When a colleague tipped her about a US hiring team at the Manila hotel, Mia went to apply without any expectations. She was hired the following week and was leaving in two months. "I only paid USD 800 for everything. They gave me a J-visa which is like an exchange student visa. It was the fastest way to hire us."
In August 2001, Mia flew to San Jose, California to work as a teacher for kids with autism. Although she did not have a teaching diploma, she was hired because of her previous job experience. She taught kindergarten special education for a few years and was assigned to an autism program later on.
With her new life, Mia learned to get by in a very expensive city, tightening her belt to make ends meet. Since she didn't have education units, she took classes to keep her job. "I shouldered all my tuition fees. I also had to buy a car because it was a necessity. On top of that, I hired a lawyer to help me to convert my J1 visa into an H1B visa to allow me to stay and work in the US."
In 2004, Mia worked for another school. "I was able to do a lot of ABA because all of my kids had autism." She mentored and trained new teachers in the district to set up their classrooms.
Setting up a new classroom includes the arrangement of furniture, sitting positions
and the materials on the wall. "It is important to situate the teacher where she/he can see everything. The kids should not be going through obstacle courses just to sharpen their pencils."
She also saw kids in groups and worked on their social skills, teaching them conversational skills as well as understanding emotions. "I loved my work so much that it was a hard decision when I had to give it up after ten years."
In 2006, Mia gave birth to her daughter Micah. Two years later, she married Micah's dad.
Country living in Oklahoma
In 2009, Mia and her family moved to Oklahoma, in a town where almost all residents were white. She and her husband wanted Micah to know her relatives while she was growing, and help take care of her husband's grandfather. "It was a culture shock moving from California to Oklahoma."
Mia was anxious but she tackled it head on by keeping herself busy. She didn't work immediately, occupied by a pre- school child and her husband's grandpa. "I was cooking country food from scratch. Making biscuits from scratch, everything from scratch. There are some areas in Oklahoma where discrimination is obvious. People would look at me differently. Some would even ask me how I got here."
The task of caring for the house fell on her. "My husband is a contractor and would work late nights and leave early in the morning. Staying at home 24/7 out in the country would drive me crazy."
At times, she would hear offensive comments like, "Immigrants were taking away the jobs of the locals." To defend herself, she would reason out that she was a college graduate, working in the country legally and never stole anybody's job. Given the circumstances, Mia slowly learned to toughen up. "My mother was very strict. Growing up, we were taught not to answer back, take things all in. But people snap. I snapped. I learned to fight back."
It took a while for Mia to adjust with her life in Oklahoma. "People would stare at me. With my accent, I really stood out when I went to the store. But Oklahomans are not generally rude."
Starting a career again
After six months, Mia was hired by the Oklahoma Autism Network at the University of Oklahoma. She trained parents and gave support systems for families. "When I got the job, we moved to our own house, a rented one." She was once again back on her feet. Bent on working as a behavioral therapist in Oklahoma, she found ways to be certified. "I took online classes at night and studied when Micah was sleeping." After doing practicum for a year, Mia took the exam and got certified.
In 2014, Mia was hired by Easter Seals Oklahoma where she started the company's behavioral program. "I trained parents and families here and there." Oftentimes, she provided free training to families who couldn't afford it. She then became the Director of the Medical Rehabilitation. Things went sour when she was told
to stop giving free trainings and start charging. "It was too expensive for some poor families. This was not the reason why I went to this field."
Juggling motherhood and business
This was when Mia decided to start her own company. She was scared but she took chances. "I started with the families I already knew and who trusted me." In 2017, Advanced Behavioral Solutions Oklahoma was born.
With her new company, Mia aimed to help children to improve their functional skills and adapt to their environment so they can reach their full potential. "My rates were so low and I would offer free training to families. We started with one room and relied on word of mouth."
From one room on the first floor of a 10-story building, the company moved to occupy most of the fifth floor of the same building. Mia attributes the success of her company to her competent staff. At present, ABS has twelve employees, working with minority groups especially with Hispanic families.
"It was not easy at first. The hardest part was juggling between motherhood and work. Time management is very important. I couldn't sacrifice my daughter's time but she also understood that I had to go, work and come back."
Mia would pick up Micah from school at three in the afternoon, then off to a grocery shop with a diner for dinner, help Micah do her homework before taking her to her extra classes, then go back to work. "I had to load my car the night before with all the stuff I would need the following day because our house in Choctaw was far from the city center. My husband was busy working so I was really in charge of Micah. I was married and a single mom at the same time."
Is she a strict mother? "Yes, I am. Maybe because I work in this field, I tend to analyze people's behavior," Mia says giggling and continues, "But I try to have fun with my daughter."
Birth pains
Mia's workplace is designed to accommodate the needs of her clients. "There are
two reception areas, one for teenagers and for young kids. When the young kids come, some throw tantrums and it makes the teens uncomfortable so we have separate rooms for each age group." They also teach the children to wash dishes in the kitchen area. From a different room, parents can observe their children. "Ninety percent of my kids have autism, the rest have Down Syndrome or other diagnoses."
At first, business was tough as insurance did not cover ABA yet, being a new field. Poor families would use their respite vouchers to avail her services. A respite voucher is a voucher payment given by the state of Oklahoma to caregivers so they can pay another person to care for their loved one. In 2018, insurance started paying ABA. "But the problem was we still did not know what documents the insurance wanted. I did the paperwork but since the process was still so new, the insurance companies were not consistent on what they wanted. As a result, I wasn't getting paid on time." There was a time when Mia had not been paid for three months but she survived. Her company grew from three kids to the current 21 kids doing one on one therapy.
Making a difference as a behavioral therapist
Mia knows that she is making a difference in the life of her kids and small miracles are enough to lift her spirit. "Our kids don't come up to me and say thank you. My job is more of an intrinsic motivation for me. I had a client who was non-verbal. I taught her how to use signs and then eventually an AAC device, teaching her functional words such as water. I initially pointed to the screen and it would speak to her. I then moved the iPad farther away which resulted to the child speaking words on her own."
Mia allows parents to be present to see what is going on but she gets frustrated when some families are not involved. "There are those who just want us to fix their child and go home. The family has to participate in the program for it to be successful."
The other night, a parent messaged Mia to show her son making pancakes by himself. Mia texted back praising the parent. "We have to reinforce the parents because they live with the kids 24/ 7. And never judge them because we don't live in their shoes."
Mia always tells the parents to never give up on their children, that their child is unique and special. "I tell them that their kids learn at their pace. It doesn't mean that if they don't learn now they won't learn at all." Some parents compare their child with other kids. Mia tells them their child will get there. It might not be today but it will happen later on.
Mia doesn't dream of a big company. What she wants in the future is to have a consulting component within the company. This is the reason why she is now in her second year of her Doctoral program at the University of Oklahoma. "We want to work more on families at home and train teachers and paraprofessionals at schools because the need is there, so that our kids will be successful, not just in our clinic."
Mia's younger sister Menchu describes her as a very determined person. When she sets her mind on a plan, she will do everything she can to achieve it. Mia's life in the US has been filled with challenges but these challenges shaped her to become the person that she is now. "I thank God for everything. I work hard and as long as I am doing the right thing, I will be compensated. Let's always go back to our values. We were raised in a country where values are important."
Nats Sisma Villaluna
Nats Sisma Villaluna has been serving the Filipino community in Spain for more than 13 years. His volunteer works include teaching Spanish to Filipinos, and as artistic director of the Coro Kudyapi, a group of musically inclined young Filipinos in Barcelona. His passion to serve the Filipino community now extends to other countries in his role as Publisher and Editor-in-Chief of the new The Filipino Expat Magazine.