Rain finally came to Barcelona a month after autumn had officially arrived in several parts of the world. After a seemingly endless, stifling summer, and rainless September until the first half of October, scattered clouds finally showered the city with wind speed of 35 km/h at 5PM local time, just a week before the clocks were set back one hour.
Still in my summer clothes and unarmed with an umbrella, I walked out of the metro joining the equally unprepared pedestrians, taken by surprise by the sudden downpour. That night, I readied my winter coat for the impending cold days ahead. I was lulled to sleep by the pitter-patter of rain, the whistling wind and the occasional rumble of thunder which reminded me of those sweet rainy days back home. The rain continued until 3AM.
When I stepped out of the house the following morning, I was greeted by dazzling sunshine and humid air that left no traces of the previous heavy downpour. Apparently, my winter coat was no longer a necessity on a hot humid day. We are once again back to the sunny days of summer and it seemed last night's rain was just a tease. "Our" otoño is playing on us.
But even if "our'' autumn is taking its time to make its present felt, our Autumn/Winter issue which also happens to be the 20th edition of The Filipino Expat, is finally here, dear readers. With stories from as far as Libya to Albania and across the Atlantic, this issue is filled with unforgettable journeys of our kababayans that will truly make a good reading company anywhere you are in this winter season.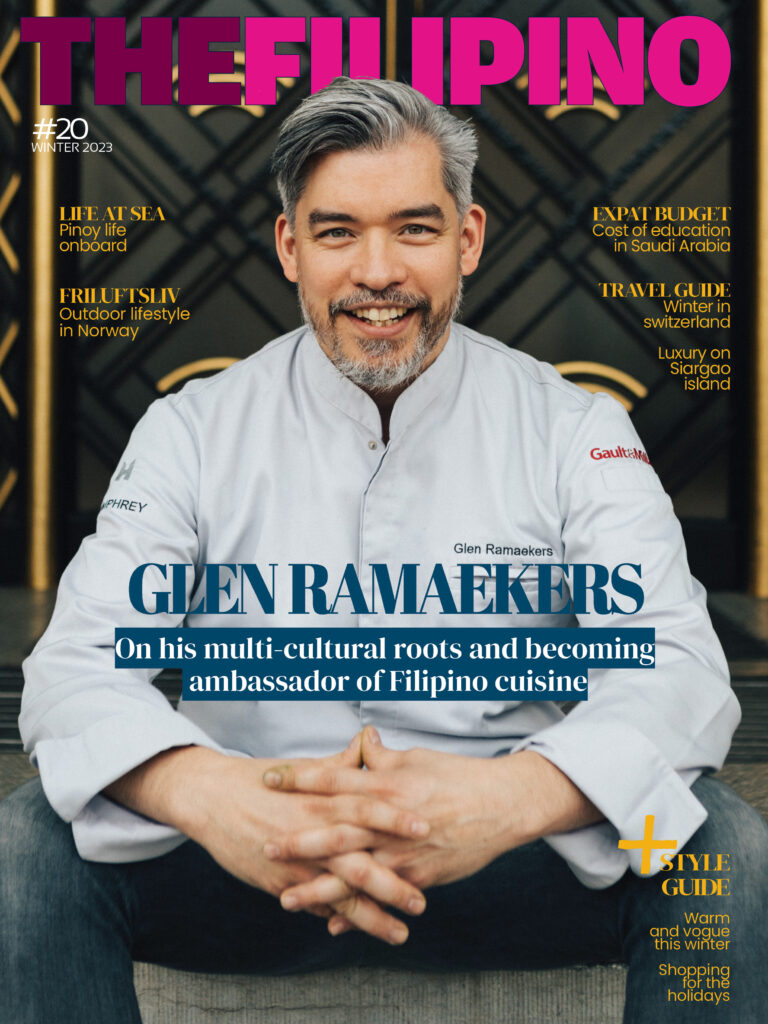 We are so jazzed for having Filipino-Belgian chef and sommelier Glen Ramaekers on our cover. Embracing and appreciating his bi- cultural background, Glen shares with our writer Louise Baterna his journey toward becoming one of the credible ambassadors for Philippine gastronomy in Europe.
Sail with us with our three sea workers Andy Flores, Chinky Nava and Rodel Dioresma, three hardworking and dedicated "captains' onboard a cargo ship, a cruise ship and a yacht respectively. Even if they comprise 25% of the world's sea workers, our Filipino sea workers remain invisible, silent and sometimes taken advantage of. That is why The Filipino Expat is excited to share their stories.
Riding an old and rank Albanian bus to Plepat, Berger Capati writes about his personal reflections in his essay "Everybody's a passenger". Columnist MJ Akil examines an interesting topic about how the concept of age has become subject to interpretation.
Jomar Rubio, a father of three, shares his experience when he and his wife decided to move to Germany, facing the fear of failure and of the unknown.
International theater actor Gerald Santos feels lucky to have experienced the kabutihan ng puso at galing of our kababayans when he moved to London and Copenhagen while performing as Thuy in the International production of Miss Saigon.
Chargé d'Affaires of the Philippine Embassy in Tripoli, Mr. Alan Roi Gabriola takes a break from his hectic schedule to give us a glimpse of his life when he is not busy attending to the needs of our kababayans in Libya, Niger, Chad, Tunisia and Algeria.
Grace Orbon-Emmelot recalls her first winter season in Norway and gives tips on how to embrace the Scandinavian concept of Friluftsliv, which literally means interacting with nature without spoiling it. Nory Joy Torres Jacobson gives us 10 tips to enjoy, explore and embrace winter wanderlust in Switzerland.
Wanting to escape the cold months of winter? The waves of Siargao are waving at you. Check out our story on Siargao Bleu, one of the most exciting resorts on the island.
And since the holiday season is just somewhere close by, we have prepared a list of presents for this gift-giving season. Check out also our easy-to-prepare and delicious Filipino Christmas recipes which you can try for your Noche Buena.
In a matter of days, the leaves will turn gold and the chilly breeze will oblige me to don my winter coat. "Real" autumn will soon come, followed by winter to usher 2023 its graceful exit. And just as our abuelos and abuelas usually say "Como vuela el tiempo." How time flies. Another leaf, another year.
And so dear readers, let us once again be the first to greet you Happy Holidays and thank you for another productive year with us. Here's to 2024! Another year of beautiful stories and wonderful adventures!
Nats Sisma Villaluna
Nats Sisma Villaluna has been serving the Filipino community in Spain for more than 13 years. His volunteer works include teaching Spanish to Filipinos, and as artistic director of the Coro Kudyapi, a group of musically inclined young Filipinos in Barcelona. His passion to serve the Filipino community now extends to other countries in his role as Publisher and Editor-in-Chief of the new The Filipino Expat Magazine.