From the scoops of ice cream whipped out of the rolling carts (kariton) ubiquitous to the Philippines' street food scene, sorbetes or the Filipino artisanal ice cream has gone a long way. Their flavors are not only getting more exciting, but they are also becoming a vehicle to showcase Filipino eating culture and tradition to ice-cream lovers worldwide.
And what better way to welcome the summer than a big scoop of Pinoy-flavored ice cream? So here are some of the best Filipino artisanal ice cream brands in Europe, United States, Canada and Australia that we are able to fit in this page. We promise that next time, this list will be longer.
Luneta/Manong Sorbetero
Among the very first artisanal Filipino ice cream brands in the Netherlands, Luneta started in 2015 in the home of Rhea Topacio and Dennis Rogacion. They quickly became popular in neighboring countries like Belgium, Germany and Luxembourg and last year, they launched their newest brand Manong Sorbetes. www.lunetaicecream.com
Made in the Netherlands, distributed by Beagley Copperman to Filipino stores in Europe.
Sorbetes ni Manong Jelle
Exciting flavours like SIling Labuyo, Sapin-sapin, Durian, Salted Eggs, Ice Scrambol and Fruit Salad, Sorbetes ni Manong Jelle is not afraid to experiment, and soon became a hit in Belgium. These small-batch artisanal ice cream is made in Sint Niklas (between Antwerp and Ghent) and delivered personally to those near enough to avail them. But who is Manong Jelle? He is Belgian pastry chef Jellie Bories, the better half and business partner of Filipina expat Kamille Rodriguez. www.manongjelle.com
Made in Belgium. Special delivery in Belgium & the Netherlands
Mamasons Dirty Ice Cream
With three branches in London, Mamasons Dirty ice cream serves not only home-made ice cream but a scoop of Filipino flavors, culture and traditions wrapped in great love like that of a Mother's. www.dirtyicecream.co.uk
Made in London. Branches in Kentish Town, Chinatown and Westfield London
Araw London
Artisanal ice cream that takes you to places. In addition to familiar Filipino flavours like Ube Halaya and Puto Bumbong, Araw also includes Aisan flavours like Masala Chai Crunch, Roasted Banana with Tahini, and Pandan Onde Onde. www.arawlondon.com
Made in London. Sold online and delivery throughout UK
DRTY
"Dirty ice cream" is the slang for the typical Pinoy sorbetes sold in kariton (ice cream karts). But dirty ice cream is anything but. In fact it is made fresh every day with local ingredients like karabaw (water buffalo) milk, and seasonal fruits like mango, jackfruit, or banana. DRTY ice cream pays homage to the origins of Pinoy sorbetes, bringing with it Filipino culture and tradition. Their flavors, Salted Coconut Caramel, Mango Float, Ube Halaya, and Cheddar Crunch also remained loyal to the nostalgic taste of dirty ice cream. www.drtyicecream.com
Made in Edmonton, Canada. Sold in Seafood City, small shops and pop-up events
Yelo'd/ Sosyal Scoops
Yelo'd, an adverb for the Filipino word Yelo (ice) also serves Filipino fusion ice cream in Edmonton. But don't let fusion scare you. Owners Jason and Ailynn Wong will make sure that you will still get the familiar Pinoy tastes like jackfruit, ube (purple yam), and mango, just with a little twist. A touch of siling labuyo or cinnamon churros, for example. At their bakery in 82 Avenue, they also serve mouth-watering cakes and cookies with flavours like bibingka, champorado and Barako coffee. They also have an ice cream truck called Sosyal Scoops. www.yelod.ca
Made in Canada. Sold at Yelo'd Ice Cream + Bake Shoppe, 10150A 82 Avenue
Edmonton, AB.
See Also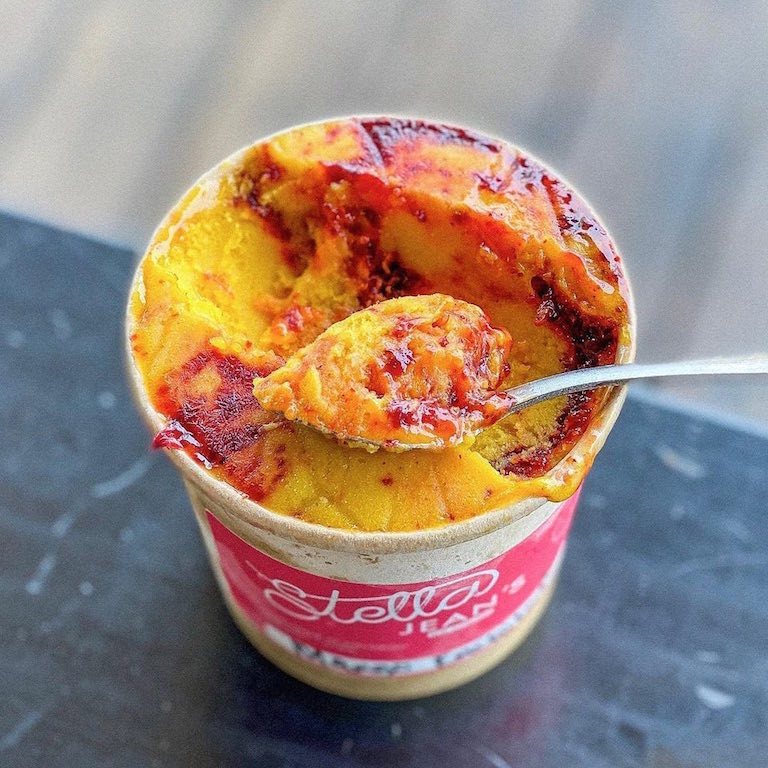 Stella Jean's
From the same owners of Pop Pie Co. pie shop in San Diego, California, Stella Jean's is Chef Gan Suebsarakham and husband Steven Torress' newest venture, located just beside each other. Clients can sample their fixed flavors like Ube Pandesal and Mango Sticky Rice ice cream or try new flavors like Honey Jasmine Sable, all home-made and made with premium ingredients. They are also available for pick and deliveries. www.stellajeans.com
Made in San Diego, California Branches in University Heights and Point Loma, San Diego and Newport Beach, Costa Mesa.
Manila St.
In Sydney chef Michelin Galang-Dapo started a craft creamery that produces small-batch of super premium ice cream that aims to represent and elevate Asian flavours to the Australian market. Manila St. prides itself with a small selection of Super Premium ice cream (Ube Halaya, Cheese Milk, Tablea Dark Chocolate, hite Chocolate, Salted Egg De Leche) that contains 77% premium ingredients and only 23% air versus Economy quality with 50% ingredients and 50% air, packing great flavors and not scrimping on quality. www.manilast.com
Made in Sydney, Australia. Sold in Filipino/Asian stores and restaurants in Australia
Kariton Sorbetes
Taho ice cream anyone? Or gelato with caramelized waffles topped with crispy chicken skin? Champorado ice cream? Kariton Sorbete's innovative and daring flavors are a concoction of pastry chef Minh Duong and Filipino chef John Rivera, two friends who wanted to bring nostalgic gelato flavors to Filipinos during the Covid-19 lockdown in Melbourne. It became a hit when the city opened up, and according to John's interview with Broadsheet, 60% of their clientele are non-Filipino. But if you are not adventurous, you can also get other classic FIlipino flavors, all tested and approved by John's Pinoy dad. www.karitonsorbetes.com
Made in Melbourne Australia. Branch in Leeds St, Footscray
Dheza Aguilar
Dheza Aguilar is the Managing Editor of The Filipino Expat Magazine. She was a former Netherlands correspondent for ABS-CBN, and freelance writer for other publications. She works for a supply company in Rotterdam and is eternally juggling passion and career. She also blogs at www.girlfromthebarrio.com.