---
These innovative handbags made from grape pulps are the brain-child of a Belgian-Filipino bag designer.
---
A handbag that's chic and ethical. Sounds like a tall order? Not for Soho Francotte, the Belgian-Filipino bag designer of Lubay, a brand of handbags and vegan leather goods based in Belgium.
Handbags are probably more of a woman's best friend than diamonds. It carries everything we need on a day or night out. But like most fashion items, modern handbag manufacturing comes with environmental and ethical costs.
Vegan leather alternatives in the past were almost exclusively made out of plastic-based materials such as polyvinyl chloride (PVC), which Greenpeace calls "The Poison Plastic". While it doesn't use animal skin or derivatives, this plastic-based material requires large amounts of chemicals and energy to produce. Disposing it is another problem- it leaches toxic materials and fumes that are harmful to health. And if you've ever owned a faux leather jacket, bag, or shoe, you've probably had the disappointment of seeing it peel and disintegrate before your eyes in one to two years.
Today's technology allows more plant-based alternatives for leather and other plastic-based materials. For Lubay, Soho uses waste products from wine production (grape skin and seeds) to create handbags and small accessories.
From being a musician to artisan
Soho is a vegan and a life-long creative who worked as a professional musician pre-pandemic. But the lockdowns put an end to live concerts, and that pause pushed Soho into exploring other areas of her creativity. As an artist, she wanted
to make a living producing something beautiful, useful, and won't contribute to the growing climate crisis.
In 2021, she ran a crowdfunding campaign that allowed her to buy a heavy-duty sewing machine. With that one machine, she launched Lubay, a brand of vegan leather goods designed and made in Belgium.
Tribute to her Kalinga ancestry
Lubay means gold earrings in the Kalinga language. Kalinga is a province in the Philippines, and also an indigenous tribe that refers to its people. Adopted when she was only a few months old, Soho traces her ancestry to the Kalingan tribe. Living in the lush forests of the Ardennes in the town of Baillemont, surrounded by Belgian family and friends, Soho had no easy access to Filipino communities. But she had a strong desire to connect to her roots. "I was always fascinated with Kalinga culture even before finding out that my family is of Kalinga ancestry!"
In Kalinga tradition, "lubay" are passed on from one generation to the next. The word is apt for her brand- Lubay bags have timeless designs and are built to last.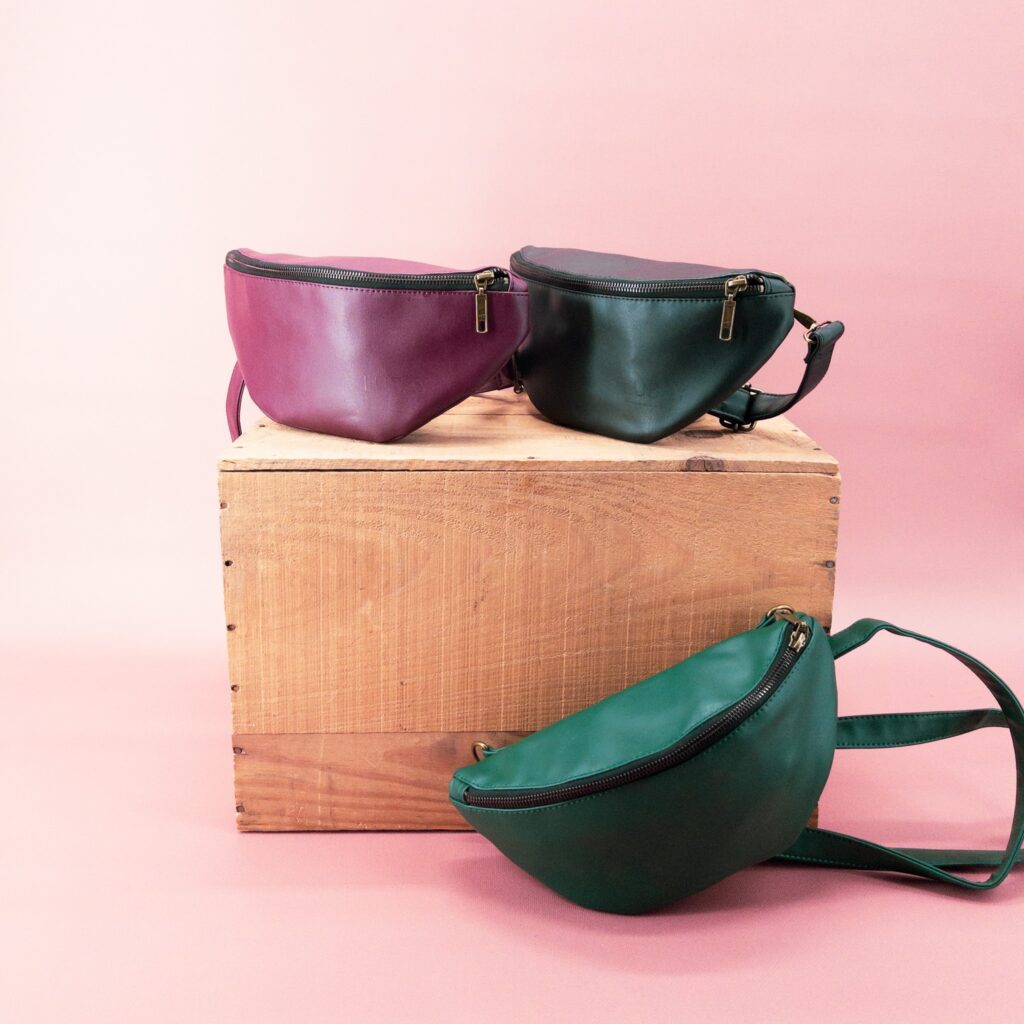 Functional and timeless bags
Soho begins her design process by observing what women actually wear on the streets, on their way to work, or when they have fun. She designs with women in mind, which is why she seems to be able to come up with bags that seem to hit all
the right buttons, aesthetically and and functionally.
Lubay bags come in elegant neutrals (camel, chocolate, and classic black) and deep, saturated jewel colors (forest green and wine). Sizes range from small to large. Her current bestseller is the Mariemont and it's easy to see why- it has a timeless shape, a long adjustable strap, is roomy enough to fit things like your beauty case, a notebook, and a small water bottle, but isn't bulky so you can still wear it on an evening out.
A slow fashion brand
Mass retail fashion's supply chain is carbon-intensive and has questionable ethical practices. For example, a tote bag that we see in a store has already traveled a long way- the cotton could have been farmed in India, dyed and sewed in China, and may pass through two or more places before it's ready for sale. Many companies, from fast fashion to designer brands, outsource their production to factories in Bangladesh or China.This usually untraceable production process is prone to abuses such as worker's exploitation, health problems, and even death, as evidenced by the Rana Plaza building collapse in 2013.
"Ultimately, the big corporations have a lot of responsibility for this. They manipulate people to constantly want new things and they don't change their manufacturing processes for the better. It's unfair to put all of the blame on the consumers," says Soho.
Designed and made in Belgium
Lubay, as a slow fashion brand, produces in small batches to avoid excess materials. Soho also mostly works on a pre-order basis. Lubay doesn't follow the usual fashion calendar either. "Lubay is seasonless, I don't release new styles or trends each season. I stick with classic designs that people can wear any time of the year," Soho says.
To cut down on long-distance shipping of raw materials, Soho works with European suppliers close to home. The grapeskin comes from Italy and the zippers are made in Belgium. The 100% cotton used for the bag's lining is made in Europe. She also uses responsibly-harvested cork from Portugal.
Currently, she does everything herself- from designing, sewing, to marketing, and website design. "Everything except accounting," she says laughing. She spends an average of eight hours making one bag. It seems like a lot of work for one person, but Soho is motivated by the fact that she can do creative work that makes a difference.
Her hard work has been recognized by the Concours National Vitrine de l'Artisan, an awards body in Belgium that puts the spotlight on Belgian artisans, which awarded Lubay the jury favorite prize in 2022.
The fashion industry still has a long way to go in terms of sustainability. But thanks to the efforts of artisans like Soho, we have more ethical and sustainable options to choose from.
Shop Lubay bags at www.lubay.be/shop.
Francine Vito
Francine Alessandra Vito is a writer, serial thrifter, and an advocate for the slow living lifestyle. You can find her sustainable fashion and lifestyle posts on her Insagram account, @francinealessandra17.