---
Filipina designer Chona Bacaoco, founder of MM Milano, is disrupting the fashion industry one runway show at a time, proving that fashion can be inclusive, sustainable and profitable at the same time.
---
"People want to see two-meter tall models or young people on the runway or in photos. But I'd go for an 83-year-old man or a 4-year-old child. It still looks super professional!" says Filipina designer Chona Bacaoco in an interview with The Filipino Expat Magazine. On their site, you'll see a differently-abled woman stunning in a metallic black gown and young kids with thick, curly hair, impeccable in their hablon suits. "We want the fashion industry to be less superficial and show that there are real people in it," she says.
Chona's creations are pure fantasy. She can do vibrant jewel-toned gowns with voluminous shapes in one collection, and make delicate, fit-for-royalty gowns in the next. Classics like blazers, shorts, and skirts are elevated with her ingenious use of color and unique patterns. The cohesive force behind all this is the Chona touch- sophisticated, fun, and whimsical. MM Milano has graced the runways of Los Angeles Fashion Week and Paris Fashion Week. Everything is happening fast for Chona and her sustainable fashion label; but getting there wasn't easy.
As a child growing up on a farm on the small island of Guimaras, Chona thought her mother, the village seamstress, made everyone's clothes. It was slow fashion at its finest- clothes were produced locally and made by a human being you knew and could speak to. There were connection, and consideration, elements missing from today's mass-produced clothing. "I didn't even know that fashion designers and clothing brands existed," she says. From the age of eight, Chona was already helping put beads on dresses and familiarizing herself with clothes patterns.
"I told my mother I wanted to study dressmaking after highschool. She said, 'Look at me, do you want your life to be like this?' We were eight children and our parents were always struggling to put food on the table," Chona told me. After graduating with a degree in commerce, she moved to Hong Kong where she worked and started her family. After several years there, they moved to Italy.
Starting from zero in a country where you don't speak the language and don't know the culture is disorienting, even for someone as lively and open as Chona.
"I didn't speak Italian, I didn't have friends and I got really depressed." But that initial culture shock and isolation didn't last long. It was a mixture of Chona's open-heartedness and go-getter personality that shook her out of her rut. "I needed to do something for others and for myself to stay sane." In 2016, her first business venture, MM Milano, the talent agency was born. Today, it counts some big designer brands and Netflix as its clients. Chona herself appeared in Dolce and Gabanna's #DGLovesMilano video ad campaign.
Stroke of Serendipity
Working in the entertainment industry means that fashion is always on the periphery. It was a fortunate stroke of serendipity that finally allowed Chona to dip her toes into fashion design. In 2018, one of the designers that her agency represented pulled out of a show. They were left scrambling to look for a way to produce 30 dresses for a runway show on short notice. It was her mother who helped her realize that this disaster actually had a silver lining. "I was panicking during a call to my mom and then she said, 'Chona, did you forget? Your mom's a dressmaker. Come home, I'll help you and teach you more'." And that was how MM Milano the fashion brand started.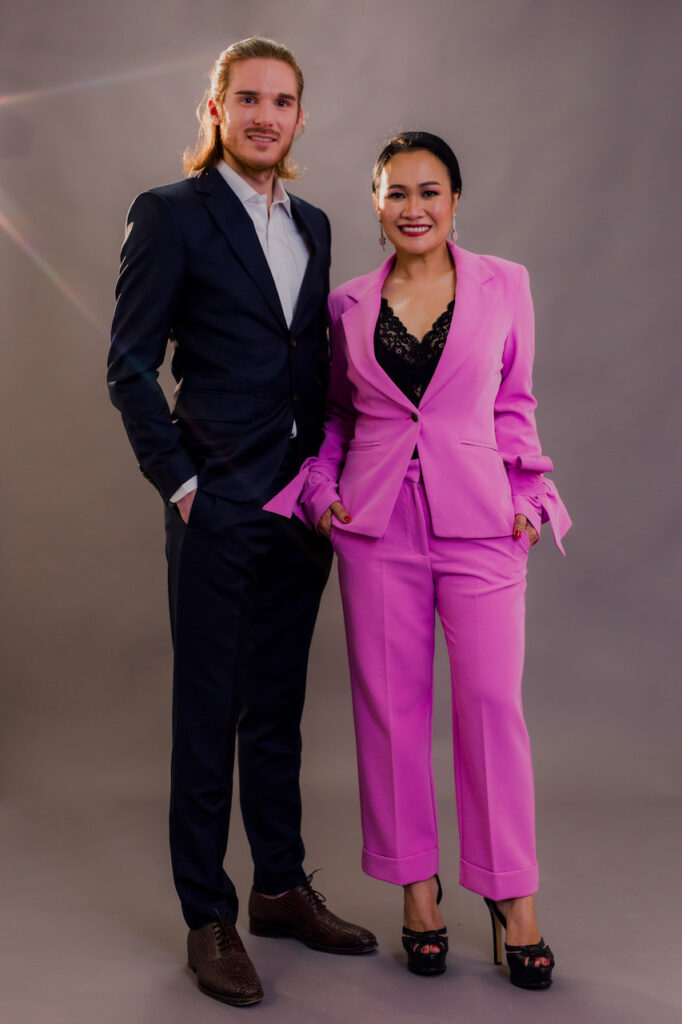 Andréas and Martin were just the kindred spirits that Chona needed to find her place in the entertainment and fashion industry in Europe. " They are like family to me. Having close ties like these really helps boost your confidence when you feel so alone in a foreign country."
No To Greenwashing
As the effects of climate change worsen, companies looking to win more customers casually throw around the word "sustainability" in marketing campaigns. MM Milano is one of those brands that actually practice what they preach.
Andréas, the Chief Financial Officer says, "Sustainability can mean so many different things for each company. For us, sustainability is linked to kindness and a sense of community. We also work on reducing waste and supporting suppliers that manufacture fabrics sustainably."
Inclusivity is an important core value for MM Milano, making sure that everyone, regardless of gender, race, age, or ability is represented.
Chona herself knows what it feels like to be excluded. When she started doing fashion shows, her credentials were criticized. She was bashed on social media by kababayans because she didn't go to fashion school. It was her relationship with the Volkmar brothers that gave her the power to be confident.
Martin, who's in charge of marketing and is also the Chief Sustainability Officer, is very strict about sustainability. He says, "We could spend more on ads or expensive campaigns. But we want to grow the business organically. We want to invest in people and the community first. It's important for us to prioritize the people who make the clothes and those who buy."
Chona feared that going sustainable meant a limited choice of raw materials, but it turned out to be just a misconception.
Instead of contributing to the creation of new waste, they use what's already out there. MM Milano buys from small suppliers who sell deadstock and excess fabric. Chona also uses materials like certified organic cotton and polyester from recycled plastics. Artisan-made, traditional Philippine fibers like hablon feature prominently in her collections. "If you're really serious about sustainability, you can find a way to make it happen," Andréas says.
Martin says that setting impossibly high standards is a common mistake when trying to be a sustainable brand. "You'll feel overwhelmed and you'll never feel happy chasing nonexistent ideals. Accept that you should just do whatever's in your power and don't feel defeated if a goal doesn't materialize."
MM Milano is more than just a business. They tell stories through their clothes, talents, and music. Their runway music is composed of original tracks by Andréas. They prefer using the word "talents" instead of "models". Chona explains that the term model seems to put an emphasis on the exterior and the superficial, while talent relates to something innate that you offer to the world. The agency also mentors talents and troubled teens, holding workshops where they discuss mental health and motivation.
Building a Brand
As a woman of color, Chona wasn't sure at first that her work would be accepted in Milan, one of the world's oldest and most respected fashion capitals. "But I was accepted with open arms, there were no obstacles at all. I received a lot of support from the Italians. Even during the pandemic, we kept getting online orders. Many shops closed in Italy but it was business as usual for us and I think that also showed people that we were serious and trustworthy."
"When I started, I felt like I was crawling on the ground. When you're new, you won't get noticed right away. That's why having an authentic community around you is important. You need to understand how people think, how people behave."
Rivalry in Fashion
Chona has also found a mentor in Filipino designer Michael Cinco, famous for his couture gowns that have graced Hollywood's red-carpet events. "I wouldn't be here now if it wasn't for Michael. He really played a big part in our success". Chona says he doesn't see her as competition.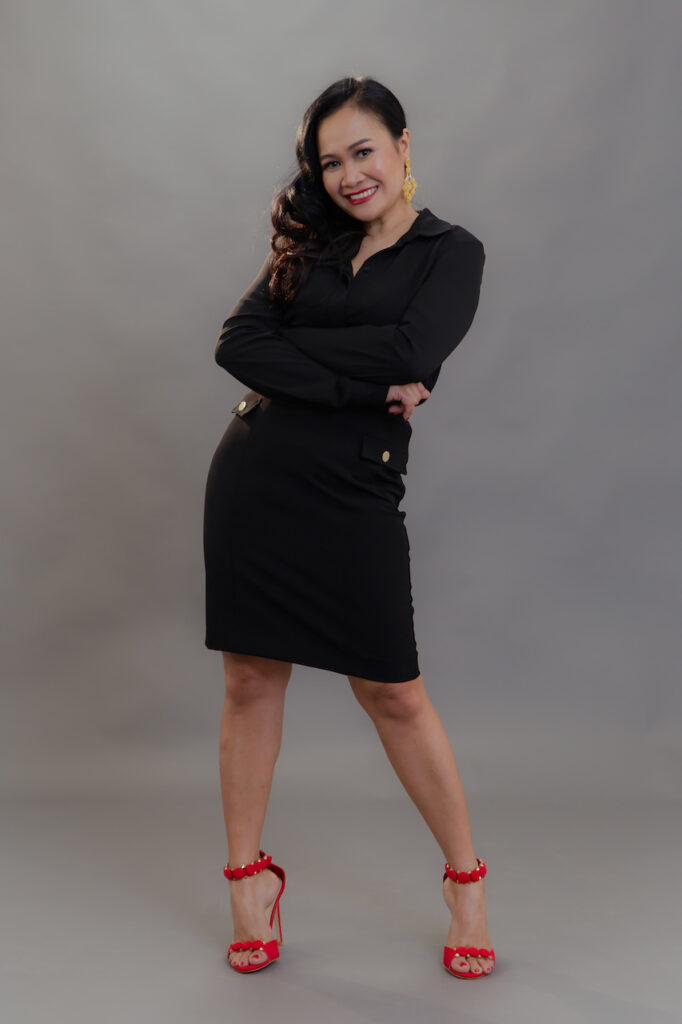 Despite her wins, she doesn't let success go to her head. "I always practice gratitude. It keeps me humble." Her advice for fellow aspiring designers and entrepreneurs abroad: "What's important is determination and hard work. Trust your intuition. I also believe in timing. Sometimes, you can work hard but if the universe doesn't conspire to go in your direction, success won't happen right away. It will come, but it might take more time. So I'd say success comes from determination, hard work, and a little bit of luck."
Check out MM Milano's designs at http://www.mmmilano-thebrand.com. You can follow Chona Bacaoco on Instagram @chonabacaoco.