---
From St. Valentine's skull to Little London, discover Rome's hidden gems and secret places through a walking tour by a Filipina tour guide living in the Eternal City.
---
Migrating to Italy back in 2018 was life changing for me. I had no friends; culture shock was at its peak. My only coping mechanism was stepping out of our house and exploring this city, which is now my home.
One day I was talking to an older Filipina on my bus ride to the city center. She has been living in Rome for almost 30 years, and she never gets to explore the city. "I have never been inside the Colosseum," she told me. This conversation motivated me when I started my tour guide services Rome Rome Tours. I wanted to show the city to tourists and fellow Filipinos.
Rome isn't only about the Colosseum, Trevi Fountain, and Spanish steps. My walking guided tour will show the secret places and hidden gems in Rome, which will make you love the Eternal City's rich culture and history even more.
Castel Sant'Angelo
Exploring Rome requires a lot of walking so wear comfortable walking shoes.
I always begin my tours at Castel Sant'Angelo. Also called Mausoleum of Hadrian, Castel Sant'Angelo was built in 135 A.D., and is known as the longest papal fortress in history. According to legend, when Rome was plagued with a deadly pandemic in 590 A.D., Pope St. Gregory the Great asked the intercession of the Archangel and saw him on a vision atop the tomb overlooking the city, sheathing his sword. When the plague vanished shortly after, the pope ordered the statue of St. Michael the Archangel to be put on top of the fortress.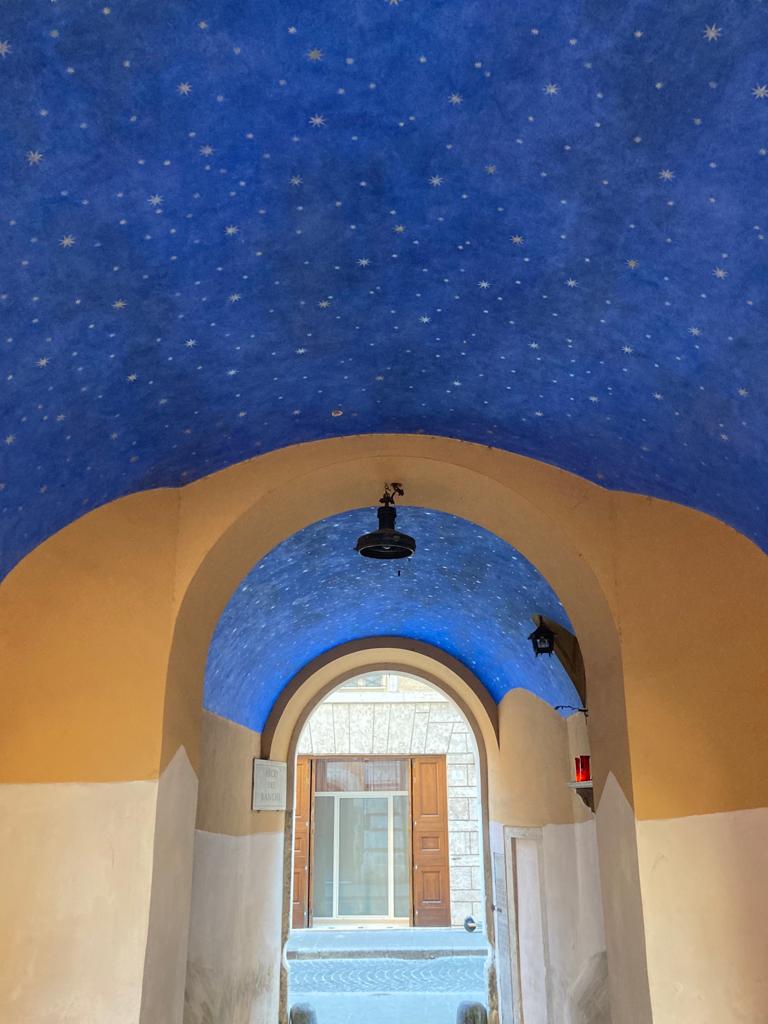 Arco dei Banche
A three-minute walk from the starting point is Arco dei Banchi, a secret passage famous for its bright blue ceiling with an oil painting of the Virgin Mary. Here you can also find the oldest existing flood plaque in Rome. Inscripted on the plaque was the date and level of the terrible flood of River Tiber in November 1277.
Arco degli Acetari
Then we go further to Arco degli Acetari, my favorite spot in Rome, a picturesque medieval courtyard hidden behind a residential neighborhood near Campo de' Fiori. This spot was once used to store and deposit acqua acetosa, or vinegar water sold at Campo de' Fiori.
Campo de' Fiori
Extending from Arco degli Acetari, Campo de' Fiori is a medieval square and home to one of Rome's most famous markets. Every morning a variety of local goods are being sold here. Its name literally means field of flowers but it has a dark history. Back in the Middle Ages, this square was a meadow where witches and non-believers were burned alive, including Giordano Bruno, the Dominican friar who supported the theory of the great scientist Nicolaus Copernicus that the Earth revolves around the Sun. The friar was burned alive, and now his statue stands in the center of the square, facing the Vatican.
Passetto del Biscione
After the market, we can find Passetto del Biscione, a hidden passage connecting the street of Grotta Pinta to Piazza del Biscione, which was used as an exit of Teatro di Pompei, one of the first Roman theaters of the Orsini family, one of the most influential Italian nobles.
Jewish Ghetto
We will continue our walk to the Jewish Ghetto in Rome, the neighborhood was built through the order of Pope Paul IV to segregate the whole Jewish community from the rest of the city. The synagogue Tempio Maggiore was also built in the quarter in 1904 but in 1943, the Nazis raided the community and arrested up to 1,023 Jews who were deported and executed in Auschwitz. Only 16 of them survived.
To commemorate each victim deported to concentration camps, stolpersteine, or brass-plated sampietrini, Roman bricks, with full names of the victims who never returned to their homes, were installed on the streets of the Jewish Ghetto. You can adopt a stolpersteine during the Holocaust Memorial Day. My heart is always heavy each time I visit the Jewish Ghetto.
Aventine Hill
To end the tour, we will go up Aventine Hill, pass the doors of the Priory of the Knights of Malta to find Buco della Serratura or The Keyhole. This secret keyhole gives you a most spectacular view of the dome of St. Peter's Basilica. Although it is not so secret anymore because there is always a queue of people in front of the villa's unassuming green door. The villa is only open to the public on Fridays, and by appointment only. But this place is perhaps every tourist's favorite spot, worth saving the best for last.
There is always part of me that wants to keep all these amazing gems by myself. But Rome is always more. Rome is a continuous discovery and every part of it deserves to be "eternally" cherished.
I hope that you will find me on your next trip to Rome so that I can personally show you these amazing places that all have a special place in my heart.
MORE HIDDEN GEMS IN ROME
La Piccola Londra or Little London
Ever heard of Notting Hill, in Rome? Resembling a part of the now-famous London's Notting Hill, this hidden gem mainly attracts local tourists. The gated street was built in 1904 by architect Quadro Pirano, at that time when Rome aspired to become a true European metropolis. But the aspirations never went beyond this short street.
Pasquino or The Talking Statue
Romans back in time expressed their freedom of speech through statues. Inventing a new way of protesting and not getting caught, they started to secretly hang their criticism and epigrams on Pasquino. Until today, 2023, Pasquino is still covered in anti-government poems and complaints about the community.
Cimitero Acattolico or Non- Catholic Cemetery
Back in 1716, ecclesiastical laws of the Catholic Church didn't allow protestants to be buried on Catholic grounds, so this private cemetery was built to bury them. There are notable personalities like poets, sculptors, painters and authors buried here so it continues to attract tourists.
St. Valentine's skull
If you are not creeped out easily, visit the church of Santa Maria in Cosmedin (near the Buco della Serratura). You'll find here the skull of St. Valentine, the patron of love who was decapitated on February 14.