If you have a 72 hours in Dubai for a lay-over or a quick city trip, there is no reason to be bored. So, throw away your standard itinerary and let these insider tips help you have a whale of a time in the city of gold.
Dubai is the entire world in one city. Showy and opulent, the emirate has always been "reaching for the sky". It likes to do things on a grand scale –no wonder it is the home to the world's largest and tallest observation wheel, the largest artificial island, the deepest swimming pool, the fastest roller coaster, the longest zipline, the largest mall, the tallest building, and the list goes on. But behind these wondrous world-class tourist attractions are hidden gems that are waiting to be uncovered.
What to do in Dubai in 72 hours?
Old Dubai
Before Dubai became the futuristic metropolis it is today, it used to be a small village dependent on fishing and a declining pearl industry. Located on the banks of the Dubai Creek, a visit to the Old Dubai is like a blast from the past. Remember the streets and markets of Agrabah where Aladdin met Princess Jasmine? That is how this heritage village looks like –buzzing with back-street haggling and merchants crisscrossing the calm waters in their traditional dhows.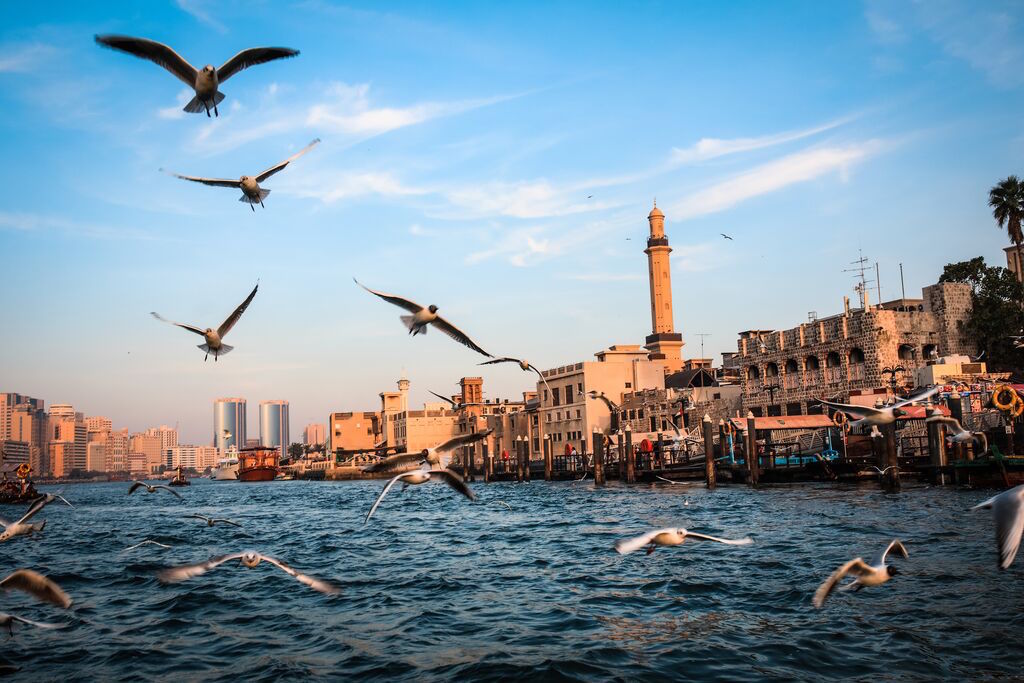 Dotted with quaint cafés and hole-in-the-wall restaurants, Old Dubai offers delightful bites to satisfy even the pickiest palate. If you want an authentic Emirati cuisine, head to Arabian Tea House and enjoy its Instagrammable décor filled with flower garlands, rattan furniture and soothing turquoise tones as you sip your cup of Arabic tea. Conclude your time travel with a memorable boat tour across the water in a traditional wooden dhow worth 1 dirham en route.
Imam Hussein Mosque
Situated at Al Wasl Road in Jumeirah, this magnificent Iranian Mosque is certainly a love at first sight. It exhibits an azure blue-colored faience tiles embellished with intricate floral motifs, blanketing its onion-shaped dome and façade. Its doors are open for non-Muslims to get a look at the mosque's stunning interior and delicately painted arches. However, the hair, shoulders, and knees of female visitors should be covered upon entering the mosque as a sign of respect. Highlights also include a library that provides a repertoire of about 14,000 books of diverse topics and languages including Arabic, English, Urdu, and Persian. (Jumeira First – 226 – 226 Al Wasl Rd.)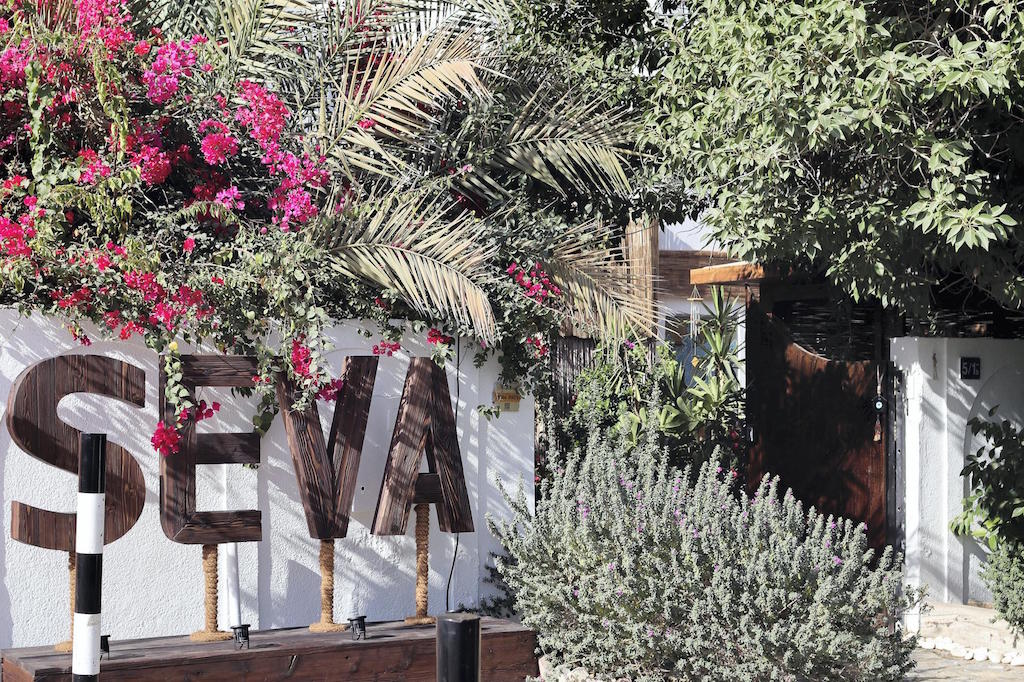 Seva
Embark on a serene journey of wellness as soon as you step into the zen-like garden café in Jumeirah 1 on Jumeirah Beach Road. The word 'Seva' comes from the ancient Sanskrit word meaning 'selfless service for the betterment of the community', which has been the establishment's advocacy since its inception. It has a Bali-like atmosphere with lots of greeneries, colorful décor, and log tables, making it a great place to catch up with friends, read a book, do yoga, or just meditate. It also offers a wide range of plant-based menus that are gluten-free, soy-free, and without refined sugars to promote health and commitment to Mother Earth. (www.sevaexperience.com)
The Green Planet
The Green Planet is a bio-dome that invites visitors to explore our planet's fascinating flora and fauna through an immersive expedition into the tropics. It is made up of four levels: the Canopy, the Midstory, the Forest Floor and the Flooded Rainforest. Each level discusses the role and the importance every part of a rainforest plays. Designed as an enclosed ecosystem, The Green Planet recreates the enchanting world of a tropical forest with over 3,000 plants and animals and the world's largest man-made and life-sustaining indoor tree. (www.thegreenplanetdubai.com)
Balloon Adventures of Dubai
A hot air balloon ride in Dubai may not exactly be the same as a flying carpet ride, but it is just as magical. Catching a rising sun against a clear desert sky as you go sky-high on a hot air balloon and glide over windswept dunes is such an unforgettable experience. All hot air balloon baskets are equipped with GoPros so that you can enjoy looking back at your memories for years to come. You also get to enjoy traversing the desert in museum-quality vintage Land Rovers, followed by a gourmet breakfast à la carte served in a magnificent desert setting. There are several companies offering ballooning in Dubai including Balloon Adventures Dubai (www.ballooning.ae) and Hot Air Balloon Dubai (www.hotairballoonuae.com).
Palm West Beach
A great way to enjoy Dubai is with sand under your feet, wind in your hair, and salt on your skin! Palm West Beach is a 1.6km promenade and beachfront stretch dotted with 300 palm trees, a range of premium hotels and beachfront restaurants, water sports, and the best Dubai skyline views! It is the perfect fusion of Miami and Boracay where you can indulge and relax against the backdrop of picture-perfect sunsets. Don't forget to bring your bathing suit. (www.westbeach.ae)
Riverland
This rustic French village looks like it is designed straight out of "Beauty and the Beast" movie set. Functioning as an entryway to the 25 million square feet Dubai Parks & Resorts, this quaint countryside-style setting will transport you to medieval France in the late 1600s with its cobblestone walkways, whimsical dining options, man-made river, and artistic displays. Riverland is even more mesmerizing at night when lit by lanterns. Book your tickets via Dubai Parks and Resorts (www.dubaiparksandresorts.com)
Promise Bridge
Just like the iconic Namsan Love Locks in Seoul, people visiting the Promise Bridge near Mushrif Park in Al Khawaneej can also seal their love by fastening a padlock to the bridge, throwing the key into the waters, and promising it will hold forever like metal locks. No romantic partner? That's okay! Enjoy some "me" time and take a tour around the picturesque area or check out the scenery with newly met friends. It also adjacent to a rustic courtyard, an organic farmer's market, bakery, restaurants, and a unique mix of shops so you will always find something to be entertained.
Wafi City
Wafi City is one of Dubai's most popular shopping destination. As soon as you arrive, you will be greeted like a real Queen by huge sphinx statues, pharaoh sculptures and columns with hieroglyphics! Inside, the impressive stained-glass pyramids will captivate your heart as you delight in the strings of fashion boutiques, fine-dining restaurants, leisure options, and a famous souk. Enjoy the gentle giants of Giza with a fun twist of contemporary designs. Be prepared to splurge! (www.wafi.com)
Snow Cinema at Ski Dubai
Follow the reindeer footsteps leading to a cinema nestled in the heart of Ski Dubai and experience Winter Wonderland as you watch your favorite blockbuster! Wrapped up in a nice warm blanket with hot chocolate and fresh popcorn in your hands, you will feel like you're inside a snow globe surrounded by glistening snow! And if your cold tolerance is not that reliable, don't fret. Your movie ticket comes with the right kind of accessories like jacket, beanie hat, boots, fleece gloves, socks, and even wireless headphones. So you can sing like Elsa in full voice saying, "The cold never bothered me anyway!". Book your tickets at www.skidxb.com.
Insider's tip:
If you are staying for only 72 hours in Dubai, getting the Dubai Pass will help you to get around cheaper. Get as much as 60% off from entrance fee for most attractions and activities with the Dubai Pass. Dubai Pass offers five options depending on your itinerary, Dubai Flexi Attractions (AED459), Dubai Select Attractions (AED425), Dubai Unlimited Attractions (AED1189) and Dubai Theme Park Pass (AED425) and Dubai Stopover Pass (AED199). Book it via www.visitdubai.com.
Geneva Liz Isaac
Geneva Liz Isaac works for a local bank during the day and hustles as a writer at night. She geeks out about conspiracy theories, Harry Potter, anime, fashion, and classical music. In rare times that she's not glued to her computer typing her heart away, she can be found in museums or aesthetically beautiful cafés.