Summer is synonymous with discovery and adventure. Sometimes crazy and outrageous. At times, brave and bold just like what Amelia Earhart did in the summer of 1928 when she crossed the Atlantic. It is in summer when we leave our comfort zones and explore the unknown, meet strangers, build new friendships and create unexpected relationships.
Olympic Sprinter Wilma Rudolph once said, "When the sun is shining, I can do anything, no mountain is too high, no trouble too difficult to overcome." I couldn't agree more. It was in the summer of 2013 when I decided to do the whole French route of the Camino de Santiago, 700 kilometers of walking alone for a month. It was a mad idea yet there was this positivity in me that made me trust the universe to back me up.
It was also last summer that the first issue of the revived Filipino Expat Magazine came out, in the middle of an uncertain future because of the pandemic. And we couldn't be happier with all the feedback and support we have been getting from you, dear readers. Thank you very much.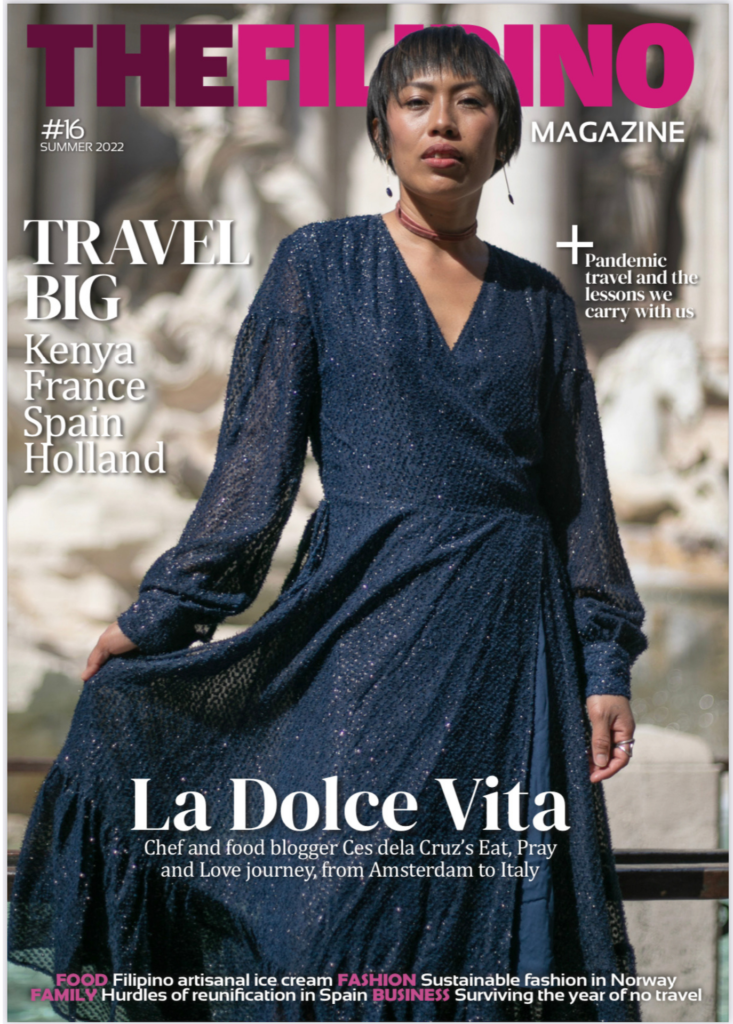 On the cover is the plucky and intrepid Bologna-based Ces de la Cruz, living the dolce vita on a roller coaster ride of adventures and misadventures in Europe. Be inspired by her grit as she deals with her irregular resident status coupled with her personal battles by choosing not to duck down to avoid the blows but instead, facing them head on and emerging in one piece. Unbending and unscathed.
Get to know amazing Filipino actresses Aina Dumlao, Lena Cruz and Susana Downes as they break stereotypes in their critically hit Australian series The Unusual Suspects, inspiring us not to be scared of speaking up and fighting back.
Now that the pandemic is hopefully coming to an end, we now wonder: what is the future of travel? Trisha Morente, in her Ready for take off, examines the effects of the pandemic on people's travel habits and what the future of travel will be. Discover the struggles of travel agency owners Emil Maravillas and Jennelyn Valenzuela to keep their business afloat amidst Corona.
Berger Capati talks with Amsterdam-based Chris Sta. Brigida, founder of Filipino LGBT Europe about how his group is taking the gay narrative to the next level. Find out why sustainable fashion designer Mayeth Sigue Codoy is a firm believer of our natural fabrics in making fashion more planet-friendly.
And what is summer without our packed backpacks, flight tickets, passports and the strong itch to create beautiful summer memories? Fly with us as we take you to as far as exuberant Kenya, to the stunning French jewel, Nice, to the busy city of Frankfurt, Germany and to the charming provinces of the Netherlands.
Summer is also about family holidays and reunions. Antonio Montalván shares the story of his late Spanish grandfather José who had served as a link between his Filipino and Spanish families for over 100 years. Badeth Ramos was heartborken when she had to leave her family behind to find a better future in Spain but soon found ways to get her husband and children under the reagrupación familiar program of the Spanish government.
And so our dear readers, this summer, don't just sit there and wait for September! Get out and do the things that you have been wanting to do. Grab a book, start painting, write a novel, visit a friend, fall in love, fall out of love or travel alone.
Because yes, when the sun is shining, we can do anything! Have a wonderful summer everyone!
Nats Sisma Villaluna
Nats Sisma Villaluna has been serving the Filipino community in Spain for more than 13 years. His volunteer works include teaching Spanish to Filipinos, and as artistic director of the Coro Kudyapi, a group of musically inclined young Filipinos in Barcelona. His passion to serve the Filipino community now extends to other countries in his role as Publisher and Editor-in-Chief of the new The Filipino Expat Magazine.