---
Rowena Romulo and Chris Joseph, owners of Romulo Café & Restaurant and Kasa & Kin in London, are the cover story of the latest issue of The Caterer, the UK hospitality industry bible.
---
Under the heading 'Love Bites', the feature heralds the arrival and growing success of Kasa and Kin, the new three-in-one (restaurant, bakery and patisserie) venture opened by Chris and Rowena in London's Soho district in November 2021. It traces the couple's odyssey from opening the first London outpost of Manila's Romulo Café, a family business, to the realisation of their dream of creating a multi-site operation, with Kasa and Kin serving as the franchise model.
Former senior banker Rowena, who is the granddaughter of the late Filipino diplomat and statesman, Carlos P. Romulo, and Chris, a veteran of the international food industry, have long championed fine Filipino food as a showcase for Filipino quality and aspiration.
Offering Filipino dishes inspired by Romulo family recipes, since it opened in 2016 Romulo Café & Restaurant in Kensington has established itself as the go-to Filipino restaurant for classic Filipino fare such as 'truffled' chicken adobo 'Romulo style'. Its setting is reminiscent of a comfortable Filipino home, albeit one situated in London.
Kasa and Kin, as exemplified by its vibrant 'Ibong Adarna' wall mural created by Filipino visual artist Kulay Labitigan, is the more adventurous and informal. An innovative 'Imbento Box' featuring five different dishes encased in a handsome wooden case delivers the coveted 'wow factor'.
"It also shows that all the hard work and effort we've put in to raise the profile and appreciation of Filipino food and to build a viable business has so far paid off. Chris and I have a truly great team, and we wouldn't be here without them."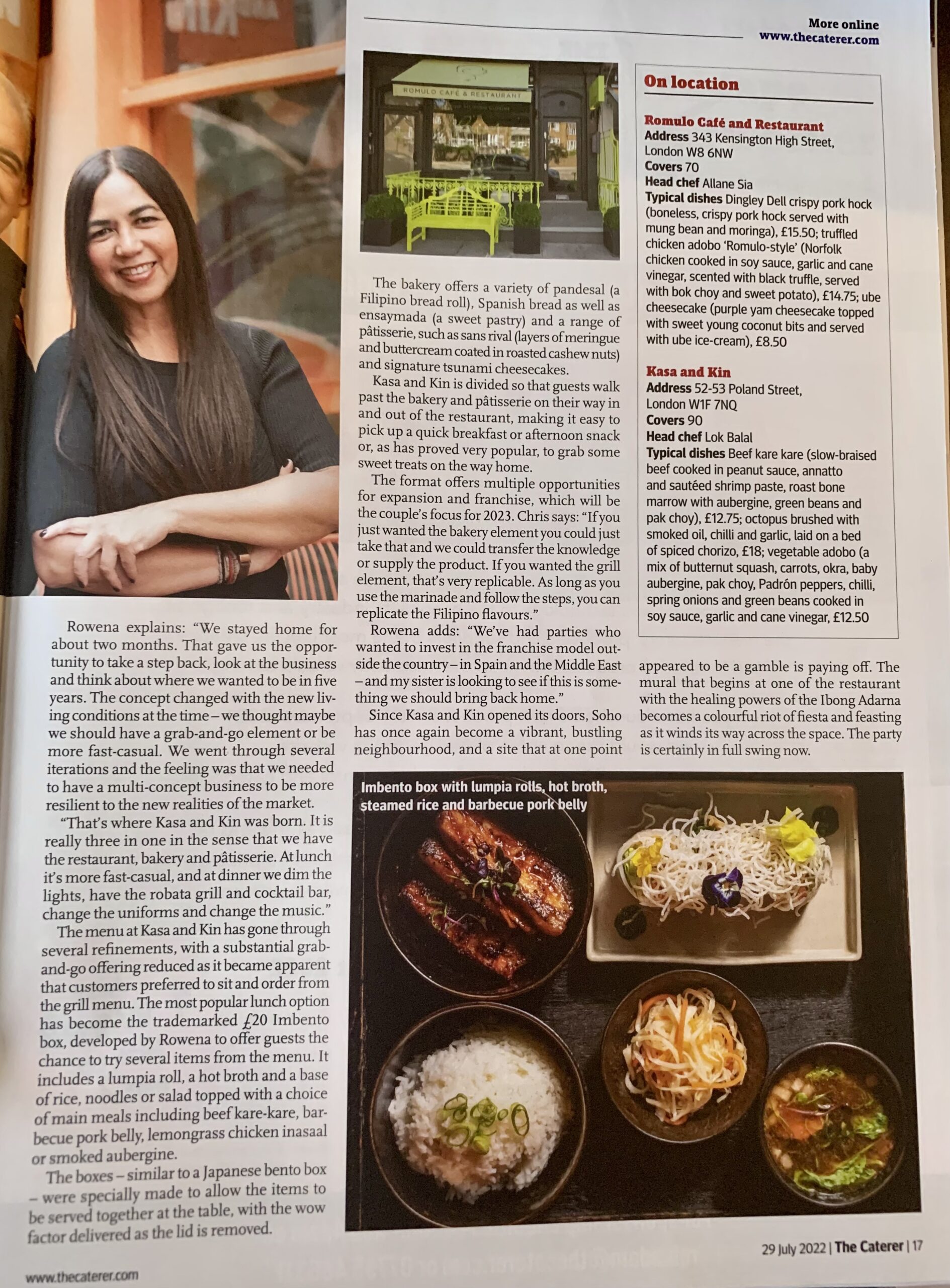 Chris Joseph said, "Rowena and I are really grateful for the support of the Filipino community in the UK who have supported us is so many ways, as well as the people who have given us great advice from the start and also helped us to stay the course even in the darkest days of the pandemic. Being an entrepreneur is never easy but being a restaurateur is hard, especially today. But we're here to fly the flag for Filipino food and the Philippines, and we're so proud and happy that The Caterer has supported us in our mission. That said, we sometimes feel the work has only just begun."
He added, "We're happy that Kasa and Kin's location on Poland Street, which is just a stone's throw from world-famous Carnaby Street and Liberty London, has helped to bring us a steady stream of customers, especially at the weekend. We're happy that more and more people are enjoying what used to be an under-rated, relatively unknown quantity. Rowena and I are proud to be playing a small part in making Filipino food what it is now — a much talked-about, sought after cuisine."
Since its establishment in 1878, The Caterer has been the foremost source of all the latest hotel, restaurant and foodservice news, and is read and quoted by leaders throughout the hospitality industry.