NYC-based Filipino American Entrepreneur/Registered nurse Carmela Diopol Lerner is a self-confessed perfectionist when it comes to skincare products.
That is why, when she founded Teal Botanicals, a clean beauty and lifestyle company in 2018, she saw to it that her products were simple, clean, safe, sustainable, and not tested on animals.
"A lot of us don´t really check the ingredients of what we put on our body or skin. I am always looking for products that are all natural," explains Bacolod-born Carmela.
Growing up in the Philippines, Carmela was no stranger to natural and effective ingredients for her skin and hair such as coconut oil and aloe vera. Thus, it is no wonder that when she formulated her first product, Teal Botanicals Facial Oil, she only had organic ingredients in mind.
Her mom, who is equally very particular with her skin, was the first one to try and immediately gave her stamp of approval. Not long enough, the product became a hit among her first clients. The enthusiasm that her first product received was the motivation that Carmela needed to carry on. Apart from being certified in botanical care products program, she trained in facial aesthetics for medical professionals in New York.

"I started with the facial oil, and for the next products, I listen to the costumers. Whatever the costumers are asking, that's how we move to the next level."
Products of Teal Botanicals are manufactured in New York city. Five to six of the ingredients are sourced from small farms in the Philippines including the coconut oil and lemon grass, while the other ingredients come from Europe and Africa, and the rest of the world.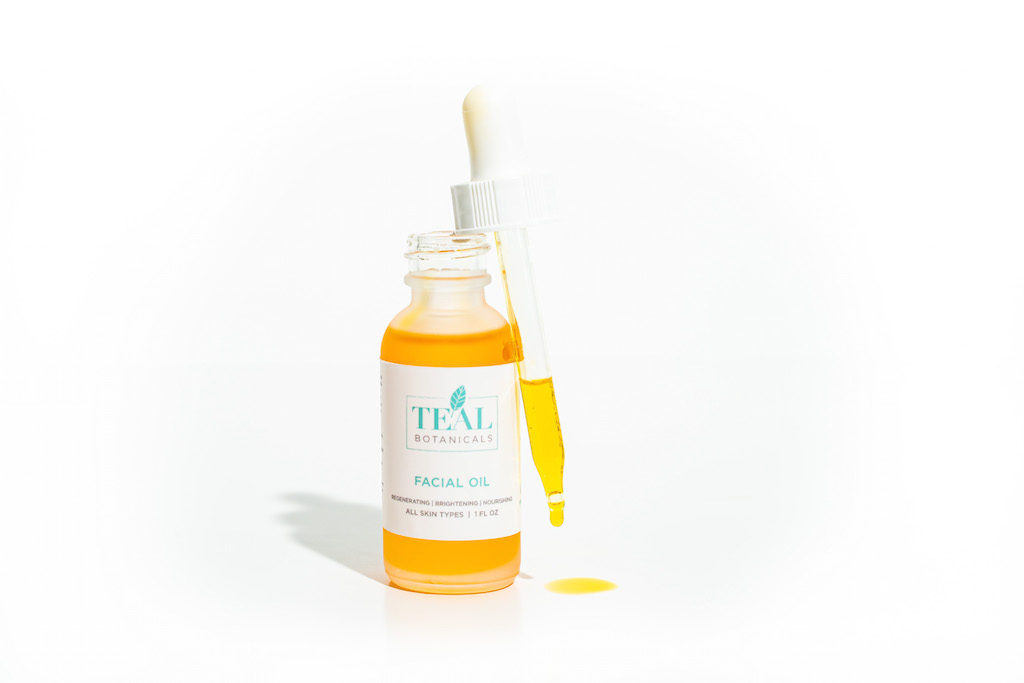 As her business gets bigger, Carmela is dedicated to doing things right.  "I see to it that our suppliers pay their workers fairly. We use eco-friendly glass reusable packaging. We are also aware that skin care is not one size fit all. Some people may not be happy for whatever reason, so we have a money back policy where we send the 100% refund. So far, we only had one case since 2018. Sometimes, you also don't know what the costumer is using and it couldn´t sit well with our products. But we always want our customers to be happy." 
Teal Botanicals has landed on the pages of Vogue magazine, a manifestation of its quality and success. Not only that, Think Dirty®, an app which helps consumers to check the ingredients in beauty, personal care and household products if they are clean and non-toxic, has given Teal Botanicals products the best ratings for being clean. On Amazon.com, Teal Botanicals Facial Oil enjoys glowing reviews.
Being very hands-on, Carmela learned not a few things in keeping her business sound and afloat.
"Never stop learning and build a good network. Also, it is important not to quit your day job until the business has consistent sales. A good businessperson needs to be organized in everything. And of course, there is nothing wrong with starting small but consistent."
To share more of her learnings, Carmela started a podcast, "Keeping it Teal", which is about wellness and self-help. She wants to show the world that teal botanicals is not only skin care, but also a wellness lifestyle brand.
To date, Teal Botanicals has 26 products and growing. This year, it will be focusing more on personal care, mainly deodorants, body wash and natural lipstick. With more products in the offing, Teal Botanicals is also active in taking care of the planet. It has partnered with OneTreePlanted.org to plant trees in California and in the Philippines, specifically in Mindanao.
Grounded by its company´s mission and vision, Teal Botanicals always strives to be clean, natural, effective, healthy, simple, cruelty-free, and eco-friendly.
Carmela´s personal favourites:
Facial Oil – ($47.50) This super hydrating, all-natural Facial Oil regenerates and nourishes, leaving skin glowing with silky smoothness. Teal Botanicals Facial Oil is packed with antioxidants helping to brighten damaged and discolored skin while preventing fine lines. Can be used as a primer, before putting on make up. Serves as a moisturiser day and night.
Exfoliating Facial Mask with AHA and fruit acids– ($28.00) No need to go for a facial. You can do it at home. It removes dead skins cells from your skin. It´s like a mechanical peel but it´s made of fruit acids. It has collagen and anti ageing properties.
Night Repair Serum with Niacinamide. ($29.80) This anti-oxidant-rich serum has Niacinamide which reduces inflammation and helps to ease redness from eczema, acne, and other inflammatory skin conditions. It minimizes pore appearance and keeps skin smooth and moisturized.
Multi-purpose BabyBalm. ($13.00) I used this with my children. put it on their face or diaper area. It´s 100% vegan.
For orders, customers can go directly to www.tealbotanicals.com or amazon.com. Clients from the Philippines can make their purchase through Shopee.
Nats Sisma Villaluna
Nats Sisma Villaluna has been serving the Filipino community in Spain for more than 13 years. His volunteer works include teaching Spanish to Filipinos, and as artistic director of the Coro Kudyapi, a group of musically inclined young Filipinos in Barcelona. His passion to serve the Filipino community now extends to other countries in his role as Publisher and Editor-in-Chief of the new The Filipino Expat Magazine.