---
New York City is an epitome of achievement of the American dream. Expat Bernie Milan proves that Filipinos can thrive, and not only survive the Big Apple, through hard work, determination, grit and a lot of self confidence.
---
When Bernie Milan, 46, decided to move to the Big Apple, he had a vision of himself waltzing his way into the Big Apple, welcomed by the city with open arms. Born in San Francisco but raised in Bacolod, Philippines, Bernie was enjoying a promising career in Manila working as an assistant director to one of Philippines' most respected filmmakers.
"I was being mentored by the legendary director Peque Gallaga but I was too young to realize what great opportunity I had. There was nothing tying me to the Philippines since I lost my parents as a teenager, and I thought that my success in Manila would translate easily to New York. I decided to join my sister in Brooklyn and find my purpose."
Spring beginning
The waltzing didn't happen. New York didn't care who he was nor how successful he was back home. Bernie arrived in the middle of springtime, April 1996, staying on his sister´s couch in a studio apartment in Brooklyn. Not wanting to be a burden, he combed the city for whatever job there was; he entertained retail and assistant jobs only to be shown the door.
I quickly understood that it was time to get serious. I spent weeks at the NY Public Library researching how to represent my experience in a resumé. I shed my artiste-wannabe appearance, chopped my long hippie hair short to a crew cut. My sister´s then boyfriend gave me his old suits to wear to interviews for corporate jobs. I remember that they did not fit right but it did not matter. I decided to put in the work to get a job, to make it in New York.
After months of pounding the pavement and endless interviews and rejections, Bernie found himself in a waiting room full of other candidates, dressed in an ill-fitting suit and worn shoes, vying for an advertising sales position at a media firm. He recalls thinking,
When the hiring manager called him in, the first question she asked was, "Are you Filipino?"
As luck would have it, the manager just came back from her brother's wedding in the Philippines. "I got the job and moved out of my sister's apartment. I rented my own flat on the Upper West Side of Manhattan. I felt very proud that it was my Filipino heritage that allowed me to connect with my manager and helped open doors."
With his first pay check, Bernie bought clothes that fit and replaced his only pair of worn-out shoes. Through hard work and sheer will, Bernie became one of the highest money-generating employees in the company. His decades-long career bloomed, working for big companies such as The New York Times, Time Inc., Conde Nast, Microsoft and now, Google. He also obtained his Master's in Business Administration at Columbia University, an Ivy League institution. Not bad for a "probinsyano" from Bacolod.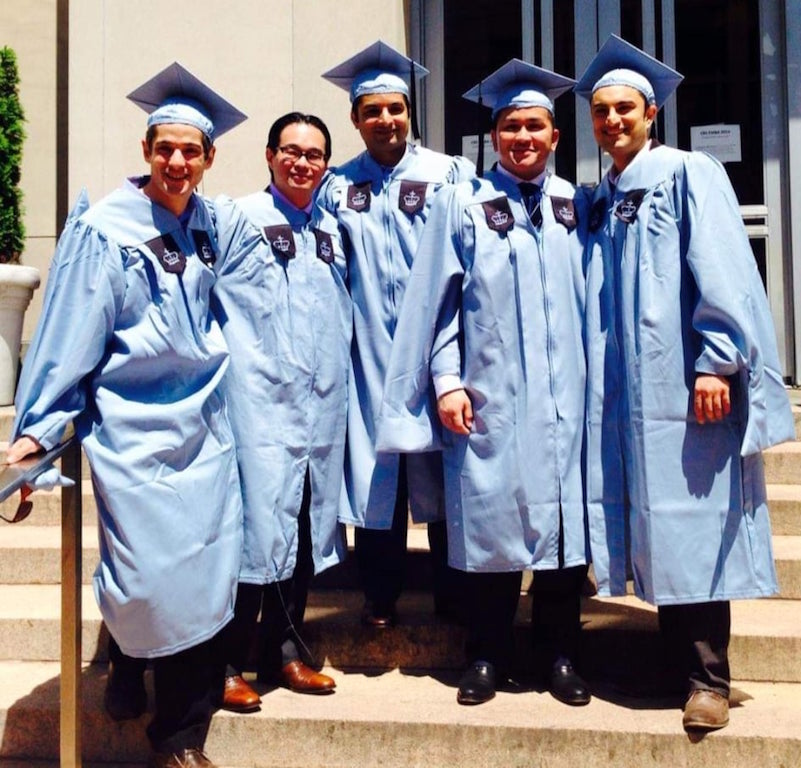 Summer rainbow and the adobo project
Summer in New York is hot and humid, but it does not stop New Yorkers from taking long walks along the Hudson River, celebrating Pride Month in June or exploring the hottest Broadway shows. For Bernie, this time of year will always remain extra special. In August 2018, three summers after the Supreme Court declared same -sex marriage legal in all 50 states in the US, he exchanged vows with his better half, Michael. He recalls how overwhelmed he was with emotions when he was signing their marriage contract at the city hall.
He never thought he would ever get married. He never thought of it as a possibility. He grew up in a Catholic society where gay marriage wasn´t even a dream."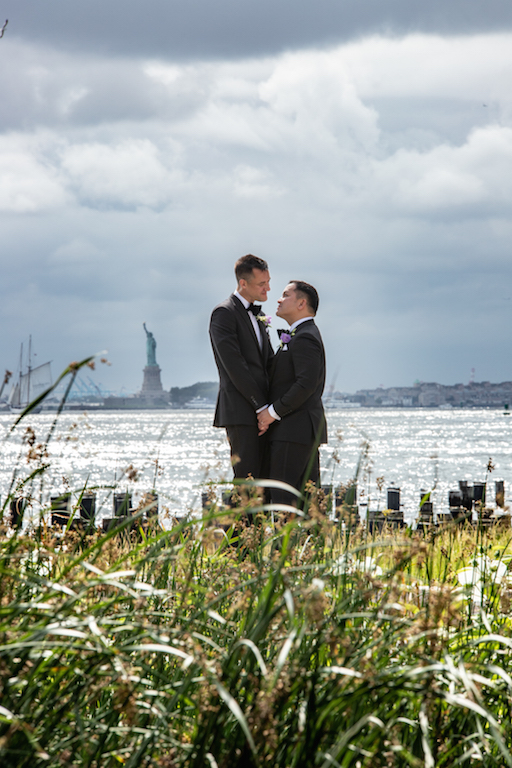 "I remember when I was about 13 or 14 that one of my titas came up to me and said, Kahit bakla ka lang . . .Biskan agi ka lang, alam ka gali no? (Even though you are just a gay man, you are quite intelligent) I will always remember how that comment made me feel like I was less than. Imagine saying that to a kid. How horrible!"
New York, however, has never made Bernie inferior. He always feels like he belongs.
When Bernie was growing up in the Philippines, his parents would tell him to not lose his accent. Remain as American as he could possibly be. They mentioned that once he returned to the US, Americans may not warm up much to his Filipino heritage. This idea rings quite true for first- and second-generation Filipino immigrants in New York and other parts of the USA. However, in recent years, young Filipino Americans have become more curious about their roots, embracing their unique Filipino heritage.
"At Google, an employee resource group called the Filipino Googler Network, or FGN, was created by its Filipino employees in 2004 to connect its global community and find ways to support its members and celebrate their Filipino heritage. Before the pandemic we would meet in the office over Pinoy food and network with the community. During the pandemic, we needed to find ways to connect with each other virtually to make sure that everyone in the community was okay. To take care of our own."
In the summer of 2020, Bernie launched the "Quarantine Adobo Project" for FGN. This was a monthly one-hour virtual video call where members can learn how to cook a traditional Filipino dish, discover its history, and share recipes that they can make their own. Bernie recalls some members say, "I don't look quite Filipino, or I don´t speak Tagalog. Am I Filipino enough?" Bernie, as one of their community leaders assures them, "Yes, you are Filipino."
While the Covid-19 pandemic was affecting millions of people in the USA, with Filipino nurses on the frontlines, the summer of 2020 was also a time of racial reckoning in the United States. Living in New York, Bernie experienced being in the epicentre of the Coronavirus pandemic and found himself participating in the Black Lives Matter and Anti-Asian and Pacific Islander Violence protests.
"I marched for Marriage Equality for many years until it finally became law in 2015. The violence against the African American and Asian American communities need to end. So, I did what I could do during that time. I supported the causes. I marched."
One act of violence got to Bernie. It was that of a 65-year-old Filipino immigrant that was brutally attacked near Times Square leaving church. As the attack unfolded, no one came to her aid. "She looked like our mothers, our titas, our lolas. Why didn't anyone do anything? This really broke my heart."
He noticed that some of his Filipino friends thought that it wasn't their place to speak up for African Americans during the BLM protests and violence against our Chinese brethren during the Coronavirus "blame game". "I do not agree with this at all."
Through all of this, Bernie's group hosted what they called Listening Sessions where they went through what was happening and checked in with the community. One of the outcomes was a project called "Healing Through Kapamilya" where members were encouraged to share stories of their elders, the most loved and vulnerable members of the community.
"We honored our elders by sharing some old photographs and stories on how they played an important role in our lives. It was truly a cathartic experience and brought the community even closer."
The music of fall
For Bernie, New York is most beautiful in autumn. When the leaves turn orange and there is a hint of nip in the air. "The fall foliage in Central Park is truly a sight to behold. New Yorkers dress up in layers, with fashionable jackets and coats. Most importantly for me, fall is when the new season of opera and Broadway shows start."
It was in Fall of 1999 when Bernie's dream to perform in New York came true. Despite his success in the corporate world, he just could not turn his back on his first love: music. From elementary to college, Bernie joined various choral groups, musical plays, and would often win in singing competitions. Performing was in his blood.
"When I was working at New York Times, one of the managers asked me to sing at the company's holiday party after hearing me sing in a karaoke bar." To prepare for his performance, Bernie hired a voice teacher, Carl Olsen. Under Mr. Olsen, Bernie learned opera and encouraged him to train with world-renowned vocal coaches. Mr. Olsen also introduced him to Anthony Amato, owner of an opera company in downtown New York. Mr. Amato took him under his wing and reinforced his training by having him sing in the chorus and in some comprimario or supporting roles. Eventually, Mr, Amato cast Bernie in leading roles such as "Rodolfo" in La Boheme, "Canio" in Pagliacci and "Cavaradossi" in Tosca.
For about 10 years, he had been living a double life. Corporate suit guy by day and an opera divo at night. He was even invited to perform at a concert in Barcelona, Spain.
In 2009, the US was in the middle of The Great Recession and Bernie´s opera career prospects plateaued. He had to decide.
"A lot of my performer friends had to work multiple jobs to make ends meet. I was blessed with a successful corporate career and all signs pointed to me doubling down on it. Looking back, I don't think I was cut out to live the performer's life. I loved it very much but I also understood where I needed to be to live the life that I wanted. I remain a huge fan of opera and hope to continue singing … even just for myself." In the winter of 2011, Bernie´s mentor Amato passed away.
Surviving winter, surviving life
Winter in New York can be cruel and harsh. In 1996, the year when Bernie came to New York, the city was hit by one of the strongest blizzards in history. But just like all the calamities and attacks that befell the Big Apple, the city has always found a way to rise again. New York survives and thrives. For Bernie, to survive in New York, one must roll with the punches.
It can be tough but as I get older and a little bit wiser, I have learned to surround myself with amazing people and to become my own best cheerleader. I am so fortunate to have my family and a husband that supports me no matter what. Oh, and on that kahit bakla ka lang and that trying to hide my Filipino-ness nonsense. I have learned to let that all go. I have never been prouder to be Filipino in my life. I belong and yes, I am enough."
Nats Sisma Villaluna
Nats Sisma Villaluna has been serving the Filipino community in Spain for more than 13 years. His volunteer works include teaching Spanish to Filipinos, and as artistic director of the Coro Kudyapi, a group of musically inclined young Filipinos in Barcelona. His passion to serve the Filipino community now extends to other countries in his role as Publisher and Editor-in-Chief of the new The Filipino Expat Magazine.