---
Get behind the scenes of the popular Philippine TV series Maria Clara at Ibarra and find out how it keeps its Spanish authenticity.
---
Inarguably, GMA's TV show Maria Clara at Ibarra is a surprisingly huge hit. Since its premiere in October this year, it has consistently gained high ratings, garnered million views on YouTube, 1.1 billion views on TikTok, and has been trending nightly on Twitter. The series has surprised the skeptics, proved the naysayers wrong and turned its bashers into instant fans.
I was skeptical when I first saw the series' publicity poster on my FB wall. If not for my brother's relentless prodding, I wouldn't have discovered an unpretentious and pleasant retelling of Jose Rizal's Noli Me Tangere. And most importantly, I wouldn't have known that Roven Alejandro, a good friend of mine way back when we were still living in Madrid in the early 2000s, is the show's Spanish consultant.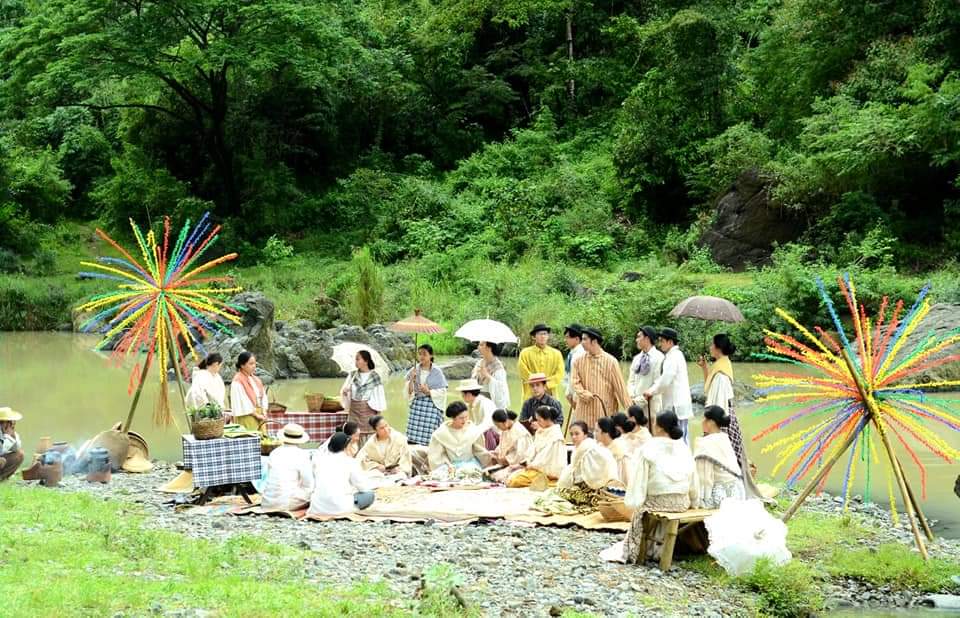 Teaching Spanish authenticity
I was able to catch up with Roven via Zoom, during his day-off from their lock-in taping in Bulacan. We reminisced about our time in Madrid, and talked about his life after living in Spain.
Roven came to study in Spain in 1997. After finishing his degree in Spanish Language, Literature and Culture at the Universidad Complutense de Madrid, he worked as an English teacher in Madrid while pursuing Theater and Film Acting at Bululú 2120, one of Madrid's popular drama schools.
After almost eight years living in Spain, he decided to go back to the Philippines. In 2019, he tried his hand at acting appearing in different TV series in both GMA and ABS-CBN.
While doing the TV series First Lady (with Gabby Concepcion), his handler Ces Aldaba, also a veteran actor, asked him to be the language coach of a new TV series.
"I was not thrilled at first because I didn't know what the project was. I was only told to be the language coach not only for the main actors but also for all artists and talents with Spanish lines. Anything that dealt with teaching was not exciting for me. I didn't want to be a teacher anymore. It was my life as a language teacher in Spain that I was running away from, and now they were offering me that," shares Roven. However, the offer also included a role for him. Something which eventually made him reconsider.
"The script was kind of cute. It's Noli Me Tangere but narrated through the POV of a Gen-Z, a strategy to make Noli Me Tangere relevant to the young ones. I was impressed." The show starting taping in August 2022.
Coaching the cast of Maria Clara at Ibarra
Roven finally said yes to the project, but he was not enthusiastic. "My handler told me that we would have Spanish classes with the cast, me being the teacher. I didn't have a choice. This is my bread and butter. My main source of income to pay my bills. So I said yes."
He was in his hometown Isabela when he gave two to three hours of online Spanish classes to the show's main cast conjugating Spanish verbs, pronunciation and some common expressions.
"I had anxiety attacks before classes," confessed Roven. Only when he had established a normal routine with his learners that he overcame his discomfort. "The exciting part is the face to face coaching," notes Roven, adding that it is not only coaching the Spanish language, it is also coaching them how to act using the language. "When I coach them, I also have to demonstrate the delivery of the line. So I also shout if the line asks for it."
The actors must not only understand the grammatical structure, but they also have to look and sound like Spanish locals, even the way they laugh or shrug. "On set, it is really pukpukan, it is tedious." Roven always have to be with the actors, coaching one and then run to the other throughout the whole duration of the taping.
"Like the bell tower scene with Dennis Trillo (who plays Crisostomo Ibarra) and Barbie Forteza, (who plays the millennial Klay). There were no Spanish lines in the script, but they still called me because some Spanish words might pop up anytime."
Ibarra doesn't need to use Spanish when talking to Klay but sometimes, being Ilustrado obliges him to say some Spanish words here and there. "Like the word torre. Dennis was struggling a bit to pronounce the word with the rolling R. So I came up with a synonym and asked the director if we could use campanario instead. I am happy that our director is open to suggestions and new ideas."
Roven is also present during editing and subtitling. "It becomes easier for me to do my job as a "subtitlist" if I am around to correct mistakes right during the takes." In the art department, Roven helps in checking if the letter written by Ibarra to Maria Clara in Spanish is correct or the 1880 restaurant menu or a 1884 newspaper headline looks authentic enough.
Like a ping pong ball
Roven jokes that sometimes he is like a ping pong ball as it is inevitable to have two units taping two different scenes at the same time. Each unit has its own producer, a director and assistant director. "I need to be creative. Like when I'm with Padre Damaso and they will call me to the other unit because they are doing a scene with Ibarra, what I do is I will record an audio of the Spanish lines, give it to the actor and then run to the other unit."
As an actor, Roven plays Don Tiburcio, the husband of Doña Victorina, who speaks with a stutter. "This is very ironic because I help everyone talk using the Spanish language and when it is my time to talk, I can't. My lips are zipped."
When it comes to the cast, Roven is quick to rave about Julie Anne San Jose (Maria Clara), describing her as a fast learner and can memorize lines quickly. "Maybe because she is a singer, she doesn't just learn how to speak a language but learn how to "sing" it. She captures and recreates the expected sound."
Despite strugging with his long Spanish lines, Roven praises Trillo's willingness to learn. He admires Juancho Triviño´s (Padre Salvi) dedication as he finds time to practice his Spanish with him while waiting for his turn. He also describes Tirso Cruz III, who plays Padre Damaso as kakaiba (different). "He speaks the language with ease, even the diction and mannerisms, the modulation of the voice, the air of superiority."
Overwhelming and rewarding
With Maria Clara at Ibarra's success, Roven and his team are on cloud 9. "We have hit a jackpot! When we started in July, we thought it would just be another ordinary taping. Then we started to trend everyday, that every episode seems to be a climax. It's overwhelming and rewarding."
Roven turns pensive when asked what made the show a big hit. "Maybe because our viewers see our sincerity and how we respect the novel down to the tiniest details even if a modern twist has been incorporated."
He doesn't know what is going to happen next. Of course, he knows the plot – Maria Clara will be raped, Crispin will die and Sisa will get crazy. But the series promises a lot of twists and turns without altering the main gist of the novel.
The Gen Z and Noli Me Tangere
Roven strongly believes that Noli Me Tangere is as relevant now as it was before. "There are a lot of Padre Damasos and Padre Salvis in our midst. A lot of Maria Claras and Ibarras among us. They still exist nowadays. They also have their own version of the Mariteses. There are the abusers and the abused. There are still a lot of injustices in our society. I wish our young ones would watch it as it reminds us of our identity as Filipinos. What binds us together. It's a wake up call of what what we fought for. From then and now."
Roven's ultimate dream is to be an international actor, to be always be in front of the camera but Maria Clara at Ibarra puts him behind the camera most of the time and as being Don Tiburcio, his scenes are few and far between. He would have loved to showcase his impeccable Spanish with a close to perfect Madrileño accent.
"Sometimes, I ask the universe what is happening. Then I realize that it is a challenge for me because not all the time is the time to shine. But instead, it's for me to make others shine with their Spanish lines."
It has been 13 years now since Roven gave up his expat life in Madrid. He misses Madrid, he assures me. But if he comes back, he dreams of coming back as an actor, playing different nationalities, speaking various languages and shooting in different countries.
Nats Sisma Villaluna
Nats Sisma Villaluna has been serving the Filipino community in Spain for more than 13 years. His volunteer works include teaching Spanish to Filipinos, and as artistic director of the Coro Kudyapi, a group of musically inclined young Filipinos in Barcelona. His passion to serve the Filipino community now extends to other countries in his role as Publisher and Editor-in-Chief of the new The Filipino Expat Magazine.