This Filipina expat is determined to prove that obtaining a degree from an Italian university should not remain an impossible dream.
---
Education and degrees are important to Filipinos. We believe that these are tools that could get us out of poverty. But for many Filipino immigrants in Italy, going back to school, after years of working in household jobs, seems like an impossible dream. Whenever I ask Filipinos why they do not want to pursue further education in Italy, they usually tell me that they are already too old or their Filipino education won´t be recognized here anymore. These stories are discouraging for someone like me who want to develop her skills to better integrate in my new society.
But the truth is, there are always possibilities to get a diploma in Italy. There are people and institutions opening their doors to foreigners like us, even to those who came here at an advanced age.
After having lived in Italy for five years, my husband petitioned me to join him in Bologna. That was 10 years ago. Three years later, we were able to get our children, too. The longer I live here, the more obvious it becomes to me that I needed to learn more, not only for myself but to also help my children adjust to the Italian life.
How can I help them with their homework if I could not even understand the language?
I decided it was time for me to go back to school, so I enrolled at a university. It was not an easy decision. I was torn between working longer hours to earn more money or doing part-time jobs so that I can study.
Choosing education
I chose the latter for several reasons. First, both parents working long hours is not particularly beneficial to the children. Without any family help, my husband and I were alone raising three kids who were still adjusting to their new country. They needed extra support and guidance from us, and we did not want to sacrifice their well-being for money.
Second, I was thinking of my future. Domestic work may still be the most common and easiest job to get for Filipinos in Italy, but the demand is getting less. It is not a very secure job and because it is physically demanding, you may not want to carry on doing it until retirement.
Third, household jobs are very isolating. The pay maybe attractive but it did not give me any motivation to learn and practice the Italian language. I was usually alone working all day. I also missed several free Italian language courses because they conflicted with my work schedule. How could I survive in a foreign country without understanding and speaking their language?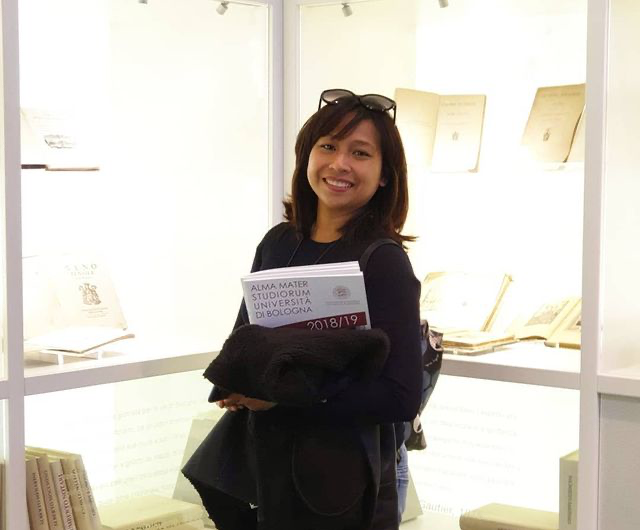 Enrolling at a university
Armed with these motivations, I enrolled at the University of Bologna, one of the best universities in Italy. My end goal was to get a second university degree, an Italian one. Good preparation and enough determination helped me to get admitted to the Second Cycle Degree Course in Sociology and Social Work.
It is not easy combining school with my job and family responsibilities, and it will be a long journey. But it is not impossible. Universities are now accommodating more international students, and more courses are being offered in English. Managing your time efficiently is one of the keys to pursuing this impossible dream.
Tips on enrolling in an Italian university
While education can help us out of poverty if we use it correctly, it is also one way to better integrate in our new host countries. Join courses, even short ones. Take advantage of free courses and training offered by the Italian government and other organizations. Check the local government's website and social media accounts for their new opportunities. Never stop learning.
And if you want to take learning to a university level, here are my tips based on how to enroll in an Italian school:
Learn Italian
Use any medium and try as often as possible to learn the Italian language. Online courses, books, music, films are a good way to start. Dare to talk Italian with strangers, especially in public places. Or get a good conversation to build up your confidence.
Secure official authorization
Get a special power of attorney from the Philippine Embassy in Italy to authorize your representative in the Philippines to process your documents on your behalf.
Authenticate your Filipino school documents
Have your transcript of records and diplomas authenticated by the Commission on Higher Education and the Department of Foreign Affairs. Then have them translated into Italian by authorized translation services like the Dante Alighieri Society in Makati City. The local tribunale here in Italy can also translate your school documents.
Obtain 'Dichiarazione di Valore in loco'
Get your Declaration of Value from the Italian Embassy in the Philippines. This is an official document that calculates your Filipino educational attainment to its Italian equivalent. Universities usually require 12 years of basic education to enroll in a First Cycle degree program. You will also be required to submit the latest copy of your passport, permit to stay in Italy, letter of purpose, and a filled-out form. The Italian Embassy listed the complete requirements here.
Stay updated on enrollment dates
Stay updated on the Call for Applicants of the courses you want to attend. Universities usually post the dates of applications on their websites. Sign up for university newsletters. And apply within the announced dates.

Get a scholarship
University degrees can be expensive but there are scholarships available in your region like ER.GO. An ISEU ISEU (Economic Indicator for University) is normally a requirement when applying for a scholarship based on your economic status. Secure one ahead of time. CAF (Centri di Assistenza Fiscale) offices, like ACLI and CGIL, can help you determine your economic status. Scholarships like UNIBO Action 1 and 2 from the University of Bologna are available to foreign students so check with your university what you can avail.
Ask the university
Use the university's international help desk to ask for information about courses you're interested in or are being offered in English.
Prepare a good motivation letter
Convince the university of your motivations in attending their courses. Tell them about your previous experiences, your training, your future goals and how their courses can help you achieve them.
Being admitted to an Italian university is only the beginning of your education. The rest depends on your desire and commitment to study and finish your degree.
There is nothing wrong with doing menial jobs abroad but finding ways to develop ourselves can lead to opportunities where we can better use our talents and skills. Whether you find that in university walls or by opening your own business, I hope that you find the courage to start. Believe that anything is possible through hard work and determination.