---
Go off-the-beaten-path on your autumn holiday and discover the rugged natural beauty, delicious cuisine and rich culture of the Balkans. Our travel guide for Albania and Kosovo.
---
The Balkans was my first international trip after the lockdowns. It was invigorating, like diving into the ocean on a blistering day and coming back up slightly out of breath. My cousin and travel buddy Gyah, and I used to meticulously plan our holidays, ticking off a bucket list of must-see sights as much as we could. But this getaway was different, we wanted it to be relaxed and immersive so we could crawl under the skin of each city.
Andi, our tour expert and trail leader, picked us up from the airport in Tirana, Albania. He knows the Balkans by heart and has an answer to every question.
Tirana was swimming in the middle of spring when we arrived. Cherry blossoms were in full bloom and the sky was painted with pastel colors. It had a great café scene that even non-coffeeholics would adore, and its laid-back vibes intertwined with a lively nightlife.
Eager to seize the day, my cousin and I just dropped off our luggage at the hotel and then headed out to Dajti Express Cable Car Station. The 15-minute ride that to took us all the way up the mountain top was remarkable, it felt like nature had swallowed us whole, hiding us in its belly.
At the top of the mountain was an adventure park, a mini-golf course, and a cliff-top restaurant, all waiting for us to enjoy. Gyah and I went horseback riding, slowly savoring Dajti's beautiful scenery. Tranquility engulfed me as we bade Tirana goodbye. It was time for us to move to the Northern part of Albania.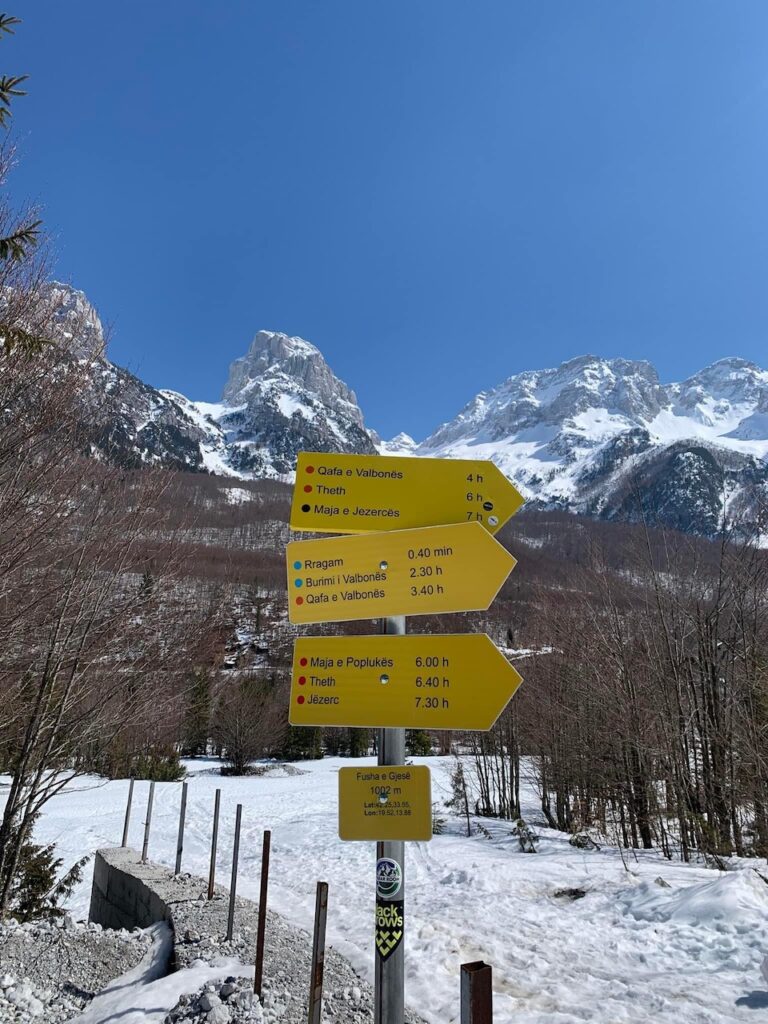 Valbona
It was freezing cold when we got out of the car but Valbona instantly warmed our hearts. While Tirana was bursting with delicate colors, Valbona looked divine, coated in glistening white, blanketed by sparkling swords of ice.
Surrounded by Accursed Mountains, otherwise known as the Albanian Alps, and a stone's throw away from three national parks, the location of Jezerca Guesthouse was poetically beautiful. Our hosts welcomed us in a warm and cozy cabin so that we could rest after a long drive along a winding mountain road.
After a refreshing nap, we enjoyed the welcome feast prepared by our hosts. Everything was delicious, prompting me to eat too much and forgetting about our scheduled trek to Xhema's Lake. My body wasn't trained for hiking, but I yielded to my cousin ́s request to go snow trekking for the very first time in our lives.
Andi curated our two-day hike. He also made us hiking sticks from branches laying on the snowy ground. It started out easy, but when we reached the trail's steep inclines and rocky drop-offs, it became very challenging.
I almost gave up when my leg got stuck in the heavy snow. "Is this your definition of an easy hike?," I asked Andi. "We haven't even started the real hike yet," was his reply.
Taking smaller steps was an effective strategy and thoughts about food diverted my attention away from physical exhaustion. I was slowly getting the hang of it when I saw the sunlight hit the snow, a beautiful reminder that even the coldest has the potential to glow.
After what seemed like an eternity, the lake finally revealed itself, the view was definitely worth the climb. All the slips, trips, and falls that I suffered didn't matter anymore. The lake looked peaceful, drawing me into a trance-like state of comfort and trust. Nature really has its way of touching one's heart, mind, body, and soul.
The next day, my cousin and I woke up very early to savor Valbona's beauty on our own. I went outside in my pajamas, allowing the cold to take me in its arms. I sat on a chair and examined the grandeur of the snowy mountain towering like a king from a distance. Overwhelmed with joy, I closed my eyes and prayed – praising and thanking God for His greatness.
We embarked on another hike after a sumptuous breakfast, more difficult and steeper than the first one. But this time, we did it at a more relaxed pace, and lots of snowball fights in between. When we reached the village of Kukai, I inhaled the air of triumph and gave myself a pat on the back for a job well done.
Back at the guesthouse, a celebratory meal was waiting for us. Our hosts prepared traditional Albanian dishes partnered with mainit na sinaing because they knew that "rice is life" for Filipinos. We concluded our day with homemade bottles of wine and Raki (a fruit brandy celebrated by Albanians), card games, and a Baby Shark dance.
I didn't have the time to prepare for the hike but I was glad that I didn't say no to it. Valbona was magical, certainly one for the books!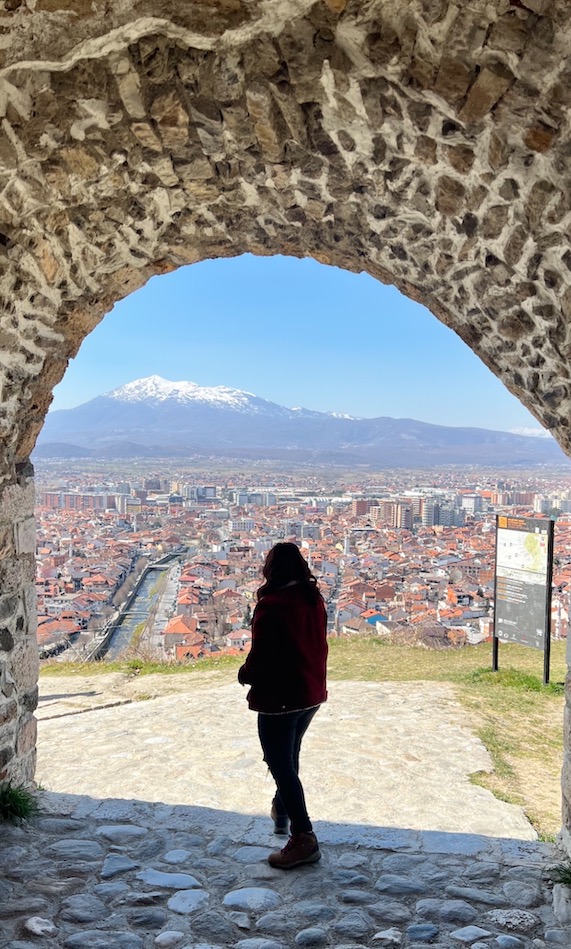 Prizren
The untouched beauty of Kosovo's old town instantly charmed us. With the beautiful, snow-capped Sharr Mountains in the backdrop, its iconic Stone Bridge under which Lumbardhi i Prizrenit or Prizren River flows, its winding cobblestone streets, and hundreds of red clay roofs, Prizren gave off fairytale vibes.
My lower body was still sore from all the hiking that we did in Valbona, and yet I was climbing another steep hillside road, this time to Kalaja Fortress. It was strenuous but there was nothing more rewarding than the breathtaking view of the Ottoman-esque town of Prizren.
We walked leisurely around the city and found an ancient fountain in the heart of Schadervan. Legend has it that anyone who drinks from this fountain will keep coming back to Prizren. Some even claim that the drinker will get married to a Kosovan and live there. When I heard the latter, I immediately drank from it wishing that one day, it would become a reality.
Saranda
We were set to explore the sunny side of Albania with Skerdi, our tour expert. Skerdi has broad shoulders, a cosmic smile, and a taste for upbeat music. So on our way to Saranda, we turned his car into a mobile party place, dancing and singing our hearts out.
Saranda swept us off our feet with its rocky coastline and scenic bays. We strolled along its charming little bazaar, dotted with quaint souvenir shops and small cafes, then took a long and very steep climb to Gjirokaster Castle which sits on top of a hill. Skerdi is well-versed in its history, so it felt like we were traveling back in time as we roamed around the huge castle.
Scenes from the past continued to flash through our heads as we entered the ancient city of Butrint, a hidden gem stuck in time. It has lots of well-preserved ruins, from an amphitheater to a basilica to other interesting artifacts.
Popular for its spectacular sunset, we couldn't leave Saranda without having a glimpse of it. The sun was disappearing gradually as Skerdi drove towards the cliff with open windows, the wind blowing my hair. We were literally chasing a sunset. After a few turns, there it was! A silent prelude to the night. As the sunset on the west, I put all my worries to rest. God was painting the sky with a promise of a new day, what was there to fear?
Berat
Known as the 'City of a Thousand Windows', Berat is an elegant stone-and-alabaster medieval old town with a pretty patchwork of window frames all looking toward Osum River. We visited Berat Castle, a fortress perched on a hill and admired the whole city.
Skerdi told us the legend of the Osum River. According to the legend, there was once a beautiful fairy called Osum, and two inseparable brothers, Tomorr and Shpirag. The brave and handsome men both fell in love with Osum and the fairy also loved them both, so she met them secretly without them knowing about one another. One day, Tomorr came to know about his brother's affair and pleaded Shpirag to give up Osum, but Shpirag got furious and refused. Tomorr's pain was so great that his scream could be heard in the heavens, he was left with no choice but to fight his brother. With his sword, he cut Shpirag into pieces, while Shpirag hit Tomorr with cannons blowing holes in his body. Both died during the battle. When Osum heard about the tragedy, she was heartbroken and couldn't stop crying, her tears formed the Osum River which is situated between the Tomorr and Shpirag mountains.
I noticed that Mount Tomorr's surface was indeed full of holes, while Mount Shpirag had giant scars and was divided into two parts.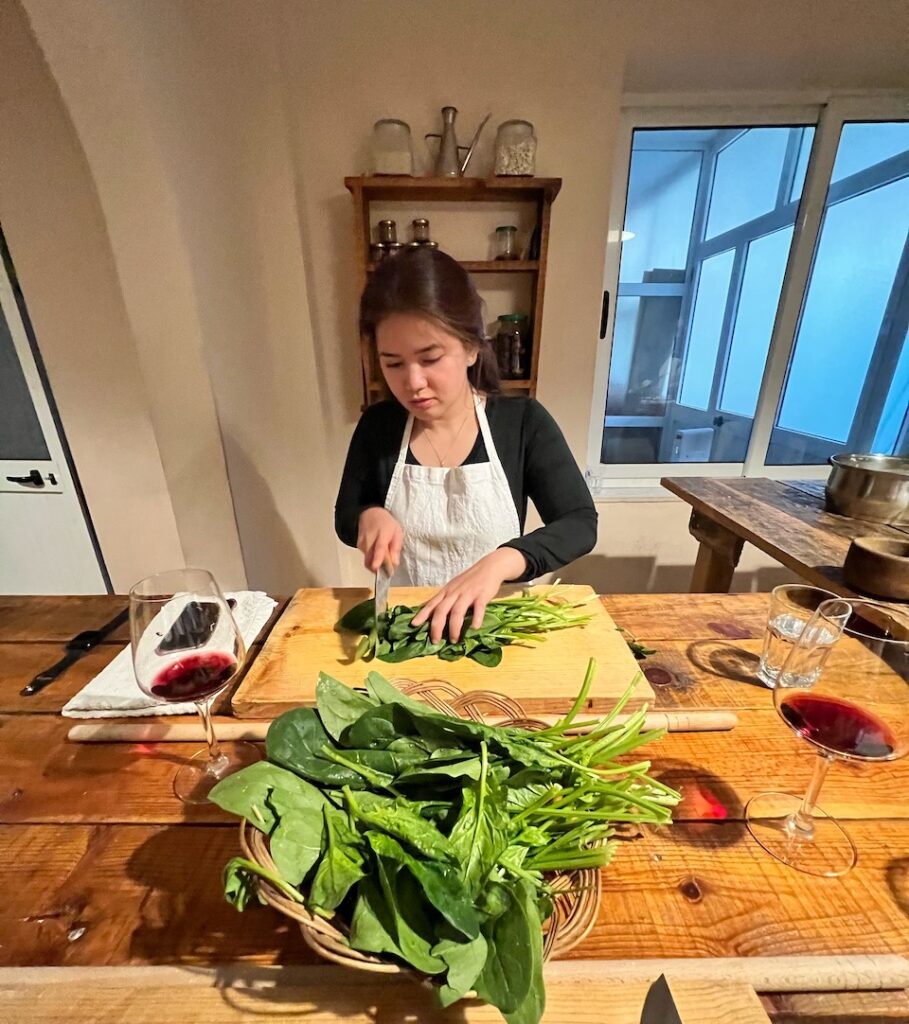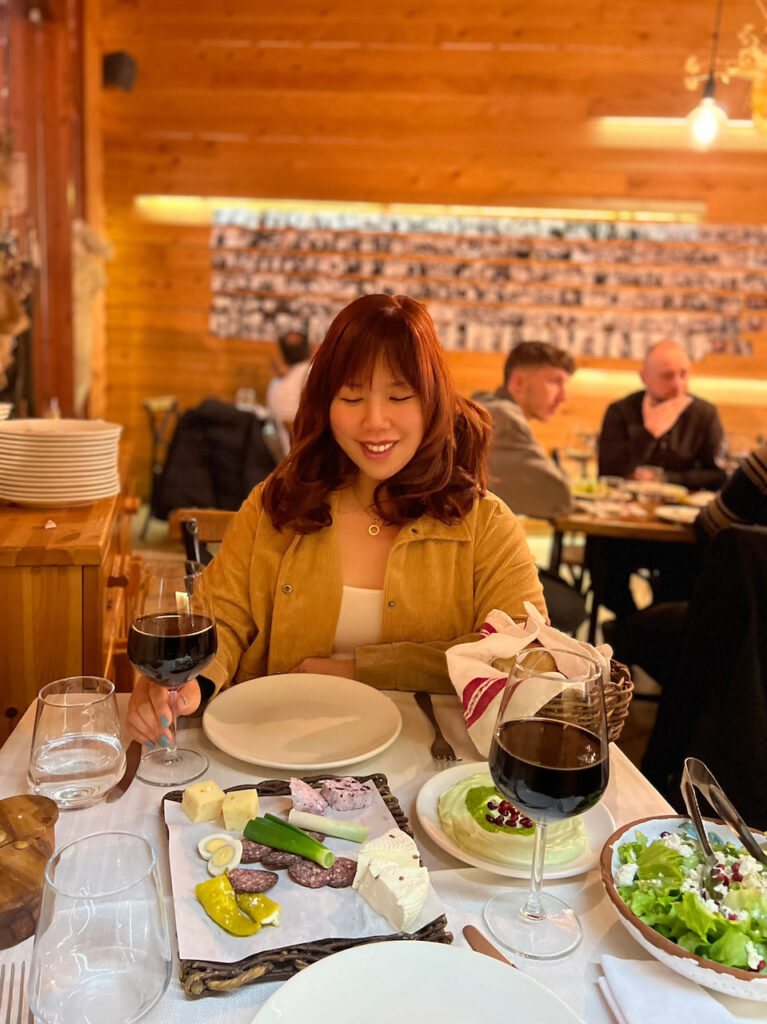 Foodie paradise
Tirana is a foodie's paradise, offering different unforgettable meals for just a few euros. The options were endless!
We went on a food and city tour with Xhulio, a soft-spoken young man with golden hair. He introduced us to cow head soup, Albania's hangover soup. We also did a cooking class with Cindi, a strong-willed entrepreneur with bright eyes. We asked her if she had any plans of moving abroad since her close friends are living in Germany. "If everybody leaves, what will happen to Tirana? The city needs some of its people to stay," she said resolutely.
In that moment of realization, a powerful insight changed me internally. I thought of each amazing individual that I met during our trip around the Balkans – Andi, our trail leader, gave up an opportunity to study and work in the US to build his own tour company in Albania called "Go as Local", introducing secret destinations for travelers to discover. Skerdi, our tour expert, is taking up his master's degree at the same time and has always been very vocal about his big love for the Balkans. Xhulio, our food partner, knows Tirana like the back of his hands and is eager to show the beauty of his city to the world. Even our hosts in Valbona are young brothers who put their hearts into their guesthouse to provide cozy homes and memorable experiences for their guests. Then there was Cindi, our cooking instructor and an online business owner who has a genuine desire to help Tirana flourish.
The fire in their eyes ignited a desire in my heart to also make a difference. Pursuing my purpose may require me to take a road less traveled, but like my new heroes, this is how I will carve my own path.
I went to the Balkans with a mission to find my missing pieces and bring them back with me to Dubai. Ironically, I found myself burying them back under the Balkans' skin with a promise to return for them one day soon.
They say that autumn is a part of a beautiful cycle of loss, regeneration, and regrowth. I didn't experience this season physically in the Balkans, but I felt it in the inner depths of my soul.
GO AS LOCAL
Explore Albania and neigbouring Balkan countries with Go As Local, and experience a unique holiday.
Contact details: Andie (travel guide Andi) +35 5692708552 Instagram: www.instagram.com/goaslocal/ Website: www.goaslocal.com