Tita Puring was 77 years old. One of her greatest dreams was to walk the Camino de Santiago, or The Way of St James, a network of pilgrim's route that leads to the shrine of apostle St. James The Great. For two years she tried to convince me to walk the Camino with her, having learned about my month-long journey walking the French Way. I was hesitant because I heard stories of people dying from exhaustion and heart attack. I did not want her to suffer the same fate.
One day she invited me to her house, cooked a delicious paella meal, and said, "Nats, I am 77. I do not have much time. I have to do it now." I was left with no choice but to agree. 
We drew an itinerary that would take us from Sarria to Santiago de Compostela, 115 kilometers and six days walking. She told everyone in Barcelona about her plans. Some cheered her on, others tried to talk her out of it. She was unyielding.
Sarria to Portomarin (22km)
Tita Puring packed her tablet (to play Candy Crush) and a couple of unnecessary clothes in a heavy backpack. I was worried that her back would not hold until our destination. I tried to brush off my worries, but my Plan B was to take the bus to Santiago should the walk be too much for her.
She was up early on the first day. She was already saying her morning prayers when I woke up. We started walking at twilight. Occasionally, I would ask her if her backpack were bothering her. In a thrice, the familiar yellow arrows guiding the way for Camino hikers (caminantes) disappeared.
---
I thought we were lost but before I could tell her what we should do, I saw her following a man who appeared from nowhere. The man was walking briskly, minding his own business. Suddenly he stopped and turned a corner. Tita Puring stopped too, and short of glaring signalled me to walk faster, pointing to the direction of the man. We were about to get closer when we realized that the man was going to pee!
---
As the sun became hotter, more caminantes had overtaken us. I began calling hostels for our next stop in Portomarin. Meanwhile Tita Puring was taking her sweet time, aided by her walking stick and seemingly unbothered by her heavy backpack. I was walking ahead of her, and occasionally I would stop when I realized that she was a good distance away.
"Still walking!" she would shout.
We passed through small rives, green fields, thick words, old farmhouse, medieval chapels, and a cemetery. After 22 km I asked her if she wanted to go on. "Of course," she replied, while catching her breath like a tired dog. She got excited every time we stopped at a bar or restaurant to have her Pilgrim's passport stamped. 
I knew that her backpack would eventually kill her so we agreed to hire a taxi to take her things to the next hostel for the rest of our camino.
In the main square of Portomarin, teeming with tourists in September, we wolfed down Tarta de Santiago at one of the outdoor restaurants while enjoying the early Autumn breeze. Tita Puring was incredibly pleased with herself for surviving the first day.
We were dead tired from our first day, so we were already sleeping at nine in the evening. Suddenly I was awoken by hurried steps coming out of the toilet. I saw Tita Puring, towel wrapped around her head, stepping out of the shower.
"Tita Puring it's only 3 in the morning. We're not leaving until 6:30!" She casually hung her towel on the hanger and went back to sleep.
Portomarin to Palas Del Rei (25km)
Our next leg would take us 25km to Palas De Rei, an uphill climb along river Minho. Now walking without her backpack, Tita Puring had extra energy to greet every fellow pilgrim with "Buen Camino".
"One trick to keep my body from feeling tired is to think that I am haciendera (land-owner). This long walk is just actually me, strolling in my massive property," she giggled while pointing at the greenery around us. It suddenly rained, so we opened our umbrellas, took out our raincoats and carried on inspecting her hacienda.
When we reached Palas del Rei, Tita Puring was still energetic enough to stroll around the town to do some shopping before our early dinner. She could not wait to finish eating her Caldo Gallego soup so she could play Candy Crush.
Palas del Rei to Arzua (29km)
On our third day, Tita Puring was already gaining a celebrity status among our fellow caminantes. They were amazed by her stamina. And Tita Puring learned how to handle her fame immediately. She would never refuse anyone wanting to take a photo with her, always ready with a sheepish smile.
She never complained of any pain. She just walked slowly like a turtle, a little bent, supported by her stick.
This part was a mix of uphill and downhill paths. Every time I felt that she was trailing way behind me, I would slow down, and stop to wait for her. Still bothered by my fear, I would deliberately turn my head slowly to see if she was not choking on the ground dying of a heart attack.
Arzua to Santiago de Compostela (39 km)
While we were having dinner, I brought up the idea of walking straight to Santiago de Compostela. This would mean that we would finish in four days instead of five as we originally planned. Tita Puring loved the idea.
"It's going to be 39 kilometers Tita Puring," I hesistanly told her.
"Try me," she proudly declared.
I booked a hostel in Santiago de Compostela, called a taxi for her backpack and we hit the sack early to prepare for the long walk the following day.
As a way of habit, I would wake up at midnight to check if Tita Puring was still breathing.
At daybreak, we left the dark and empty streets of Arzua. We would stop every ten minutes to have some snack or sit under a tree to catch our breath.
The sight of a tiny, 77-year-old woman doing the Camino continued to amaze other pilgrims, especially the young ones. When they heard that she was walking 39 km straight that day, they showered her with more praises, peppered with disbelief.
At this time, the news of a murdered American girl had reached the pilgrims. She was doing the Camino alone, until her dead body was found somewhere in Astorga.
We were walking along the labyrinthine interior of the woods, dark shadows of large trees hovering around us. What if a murderer attacked us? What would we do? Tita Puring could fake a heart attack or play dead so the killer would just take her tablet and leave us.
Halfway through the woods, Tita Puing could no longer hold her bladder, so she went behind the bushes to relieve herself. She was about to stand up when she saw a plant with beautiful flowers. While trying to reach the stem to pluck it, she lost her balance, falling flat on her face. We ended up laughing so much that we forgot that we had so many kilometers still to cover.
Saint Santiago, meet Tita Puring
My back was already killing me, and I was limping with painful, blistered feet when we reached Santiago de Compostela at eight in the evening. We were famished so we dashed to Plaza Obradoiro to grab a well-deserved Galician dinner. Tita Puring's legs seemed to be stronger than ever. Instead of being disappointed with the on-going construction, she gazed at the scaffolding-covered façade of the Cathedral with so much pride and happiness.
At mass the next day, the cathedral was packed with caminantes from all over the world. Tita Puring proudly clutched her Camino certificate while watching the Botafumiero sway above us. We spent the rest of the day walking some more. I took her to places where I used to hang out when I was living in Santiago de Compostela. On our way back to Barcelona, we dozed off the entire 14-hour bus trip. It took me a while to realize that I did not have to stir Tita Puring in the middle of her sleep to check if she was still alive.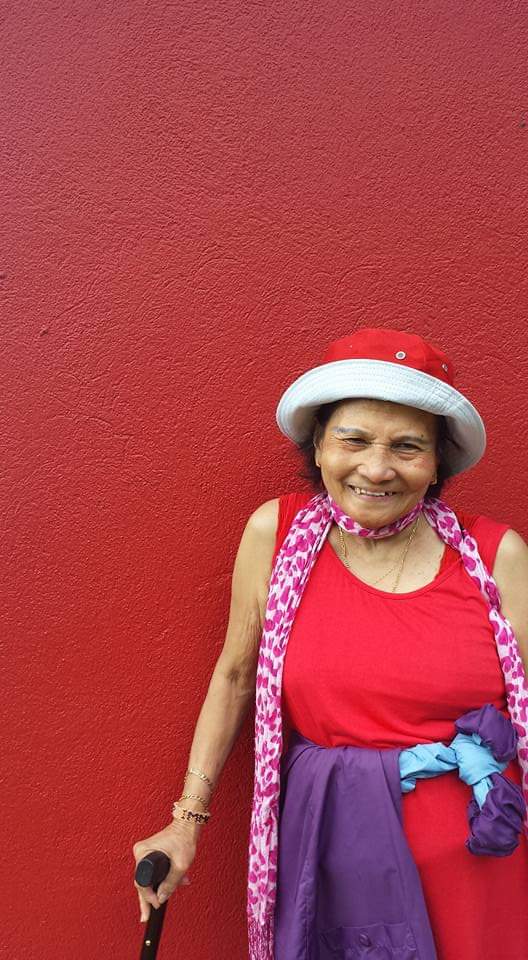 Life's lessons from Tita Puring
I doubted Tita Puring's stamina. I expected that we would be taking the bus to Santiago de Compostela after our first day. But she proved me wrong. Along the way, she imparted valuable life lessons to me.
It is never too late to make your dreams come true. Enjoy while doing it – Even if you're already old, frail and bent. At 77, Tita Puring fulfilled her lifelong dream. She walked 115 kilometers of the French way, without blisters or limp. She walked with strong feet, a pure heart and damn good sense of humour.
Go slowly, becoming the master of your energy – Before an uphill climb, she taught me to stop, take a deep breath, study the ground, and with little steps, continue. She would reach the top of the hill without any trace of exhaustion. She taught me to go slowly and do things carefully because I am the master of my energy.
Know your why – Tita Puring showed me her determination and enthusiasm, fueled by her faith. She said that every time she felt that her legs were about to give up, she would think of how Jesus carried his heavy cross to Calvary. She never complained about her feet, neither her back, nor of any hunger along the way. The only time she whined about something was when she told the waiter that their Fricandó was better than what she cooks.  
About Tita Puring
Purita Corazon Anastacio, or Tita Puring in the Filipino community in Spain, was one of the first Filipinos in Barcelona. She arrived in Spain in 1965 to work as a babysitter for a diplomat's family. When her Filipino employer went back home, she decided to stay and work for a Spanish family.
When she saw the growing number of Filipinos living in Barcelona, she started selling Filipino food during her days off. She would hang out in Plaza Catalunya to meet new arrivals. She met her Spanish husband at a local disco, and she claimed it was love at first sight. Her husband died of cancer in 2001.
She devoted her time to the Filipino community, joining social, cultural, and religious activities, endearing herself to the community even more, and becoming one of the most well-loved titas in Barcelona. Walking  the  Camino was one of her biggest dreams. The other one was to go home and spend her remaining years with her family in the Philippines. The only time she went home was after her husband died.
Tita Puring succumbed to cancer in 2019. She was 81. She was not able to fulfill her other dream.