---
A gripping story of how a Filipino military contractor saved fellow OFWs so that they could escape Kabul together, before the city fell into the hands of the Taliban when US and NATO allies pulled back from Afghanistan in September 2021.
---
If he were to decide, Elmer Presa, wouldn't want to leave Kabul, his home for ten years. But this was not for him to determine. As he sat patiently on the floor of the C17 US Air force transport plane bound for Doha, surrounded by a thousand mix of Afghan citizens, foreign civilians, military personnel, private security contractors like him, Elmer, 49, felt relieved and despondent.
Relieved that after gruelling days of chaos and confusion, he was now safe and ready to flee a nation on the brink of collapse. But he was saddened to abandon the country he had learned to love. To distract himself from the commotion inside and outside the plane, he fished out his mobile phone from his backpack, the only belonging he was able to grab during the whole ordeal, and took selfies with some Afghan kids sitting beside him.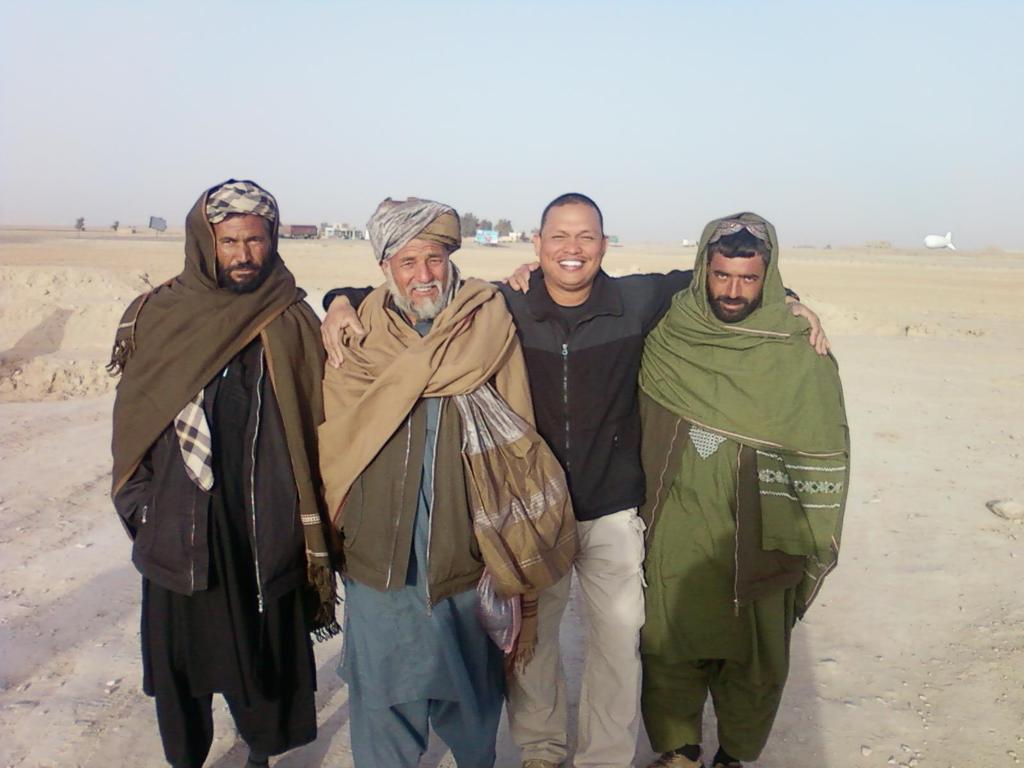 Living in one of the world´s most dangerous cities
It was his fondness of dogs that brought this former postman and three-term Cavite city councilor to Afghanistan to work as a canine handler for a UK company in 2011. Elmer immediately embraced his exciting expat life in Afghanistan. He made friends with the locals who treated him as family and did well in his job. From being a dog handler, to a K9 project manager, he was later promoted to Kennel master.
When he arrived in Kabul, he knew that danger came with his job. He was responsible for handling specially trained dogs to detect and find explosives including unexploded bombs and improvised explosive devices. He also conducted basic handler refresher courses, certifications, weapon and induction trainings to his team members.
Despite the perils, his job didn't only give him an exciting work experience, it also allowed him to give his wife and three daughters a comfortable life back home.
"I just told myself, if it is my time, it is my time. I just focused on my work. It's not productive if we are scared all the time. I just pray that God protects me."
Dark clouds however began to hover over the horizon on 29 February 2020 when the US and the Taliban signed an agreement wherein the US and Nato allies were to withdraw all troops within 14 months.
"We were aware of the security and political turn of events in the country as we were often briefed by our country management director. We had contingency plans. Honestly, I was worried more about my fellow workers who were new in this kind of working environment ."
Then came 13 April 2021, when US president Biden announced that all US troops would leave Afghanistan by 11 September 2021. News of the unexpectedly quick Taliban takeover of nearby districts spread like wildfire. Elmer prepared for the worst, which finally came on 15 August 2021, the day when the Taliban finally reached Kabul.
Not leaving a kababayan behind
Hours before the arrival of the Taliban, Elmer and his team were busy transporting equipment and personnel from their facility to Zohak Village Hotel, the place where most international company personnel would stay prior to departure. The hotel, located directly next to Hamid Karzai international airport, was still under NATO and US military control.
"My boss told me that we didn't have a choice but to get out of the country. Our Afghan colleagues took it upon themselves to be with their families and flee the city."
There were reports that Afghan president Ghani had left and flew to Tajikistan. The streets of Kabul were a picture of chaos and desperation. The local police had already abandoned their posts and civilians were left on their own.
Elmer learned that a fellow Filipino in Afghanistan, dog handler Jeffrey, was stuck in his post and couldn't get to the hotel. He had to get Jeffrey but he was turned down by one of the company drivers. Nobody was allowed to leave the hotel. Gunfires could be heard everywhere.
Elmer begged his transport manager but was denied. He was told to wait until the roads became passable. But Elmer couldn't take any chances.
"My immediate manager helped me to talk to to our highest boss, COO Mr. James. I was taking full responsibility for my actions, I told him. He eventually granted me permission."
Elmer, along with Chris, another Pinoy staff member, set off to pick up Jeffrey. Along the way, there were Talibans on motorcycles armed with AK rifles roaming around. Elmer's journey was slowed down by a number of checkpoints. He remained calm and collected. He waved their IDs at checkpoints.
"We finally had Jeffrey with us. Going back to the hotel was more chaotic. It was an image similar to a Quiapo procession with thousands of people rushing towards the airport. At one checkpoint, I had to explain to a group of Taliban soldiers why we were on the road. I was not nervous. I even asked to have a photo with them to ease the tension. They let us pass."
That evening, the Taliban had declared the Islamic Emirate of Afghanistan, officially marking the return of its rule over Afghanistan after 20 years. At the hotel, Elmer received the news that another Filipino in Afghanistan, Joselito, had not made it to the hotel yet. He was dropped off at the US embassy compound that afternoon by mistake instead of Zohak hotel. Elmer immediately secured his boss´s permission to rescue a kababayan.
Elmer and another Pinoy companion parked the vehicle a few meters away from the embassy and was met by a group of Taliban soldiers manning the main gate.
"I talked to the commandant. He said, no problem. One of them who spoke English asked me: "You Filipin! Taliban, good? Or no good?" It was a tricky question. I hesitantly said, "Good". He doubted a bit but I tried to change the subject. I couldn't afford to make any mistake. I was fighting against time."
After minutes of waiting, Joselito came out and they immediately boarded the vehicle and drove away. On the way back, the crowd had doubled. Taliban soldiers had already been deployed everywhere. Elmer and his group finally reached the hotel and stayed there until 17 August.
Coming out unscathed
The hotel´s gate was already manned by the Taliban. They had a media team who took videos and photos of the people coming out. They recorded everything. Elmer and his team joined the slow moving ocean of distraught citizens and expats eager to leave the country. It took Elmer two hours to reach Abbey Gate.
While waiting for their flight, Elmer´s group had to spend the night in an abandoned room near the airport gate.
"We were so hungry, we found packs of biscuits in the room and ate them. We didn't realize that they were already past their expiration date but we didn't care."
Lessons from Afghanistan
Elmer landed in Washington D.C. from Doha on 22 August. Being a US visa holder, he stayed in the US with the Christian Brethren Community in Lakewood.
He thought he would never see Kabul again. But it seemed that he and Afghanistan were not ready to part ways just yet. Last November, Elmer was back to work as K9 Project Manager/ Kennel Master providing support for United Nations Assistance Missions for Afghanistan (UNAMA).
On his return, Elmer started a new chapter in his life in one of the world´s most dangerous countries. But he came prepared. Life is too short to be scared. Afghanistan has taught him never to give in to fear and not to pass up the chance to risk his life for others.
Nats Sisma Villaluna
Nats Sisma Villaluna has been serving the Filipino community in Spain for more than 13 years. His volunteer works include teaching Spanish to Filipinos, and as artistic director of the Coro Kudyapi, a group of musically inclined young Filipinos in Barcelona. His passion to serve the Filipino community now extends to other countries in his role as Publisher and Editor-in-Chief of the new The Filipino Expat Magazine.