Together with a friend, our EIC Nats Sis Villaluna went to Barcelona to look for a summer job. They came back with a tan. Read about their hilarious job hunting adventure from their early years in Spain.
---
It was the summer of 2007. I was having personal issues, including the prospect of being homeless because I was not able to secure a new place to move in after closing the contract for my flat in Getafe in Madrid. I was still a struggling freelance teacher, and August was a dreaded month for me. My students were away on holidays. Holidays meant no classes. No classes meant no job. No job, no pasta. No pasta, pathetic loser.
I got a call from a friend working for a wealthy family in the suburbs of Madrid. He was looking for an assistant. I would be climbing trees, cutting branches, twigs, and oh, did I know how to fix cables and electric wires?
But a Barcelona-based friend convinced me to try the Catalan capital. He assured me that we could land a summer job. I prodded my friend Mae to tag along. We were not passing up the chance of having a summer job in one of Europe's exciting cities. So pack our bags we did. However, not everyone was convinced. Some Madrileño friends warned us that we would find it hard to find a job at this point in time. They could be right but we remained optimistic. We were up for an adventure!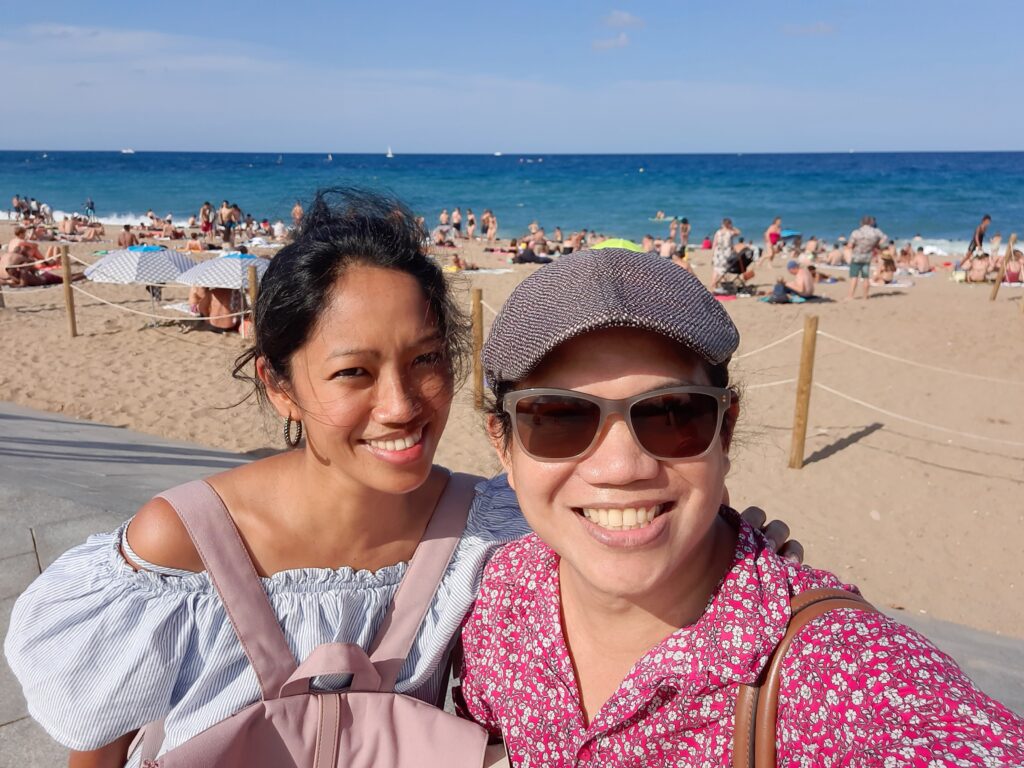 Monday came and it was time to get a job. We went to the employment agency our friend referred to us. There were jobs all right, but all were domestic works: babysitting, oldies-sitting and house works. I was so willing to take any job there was except for one hitch. It turned out that they were not offering a summer job but a full time employment with contracts and the perks. And they preferred work visa holders. I was still a student visa holder back then. I was a bit disappointed. What happened to my friend's promise? I was assured of a summer job, wasn´t I?
Anyway, Mae and I carried on. We walked into restaurants with CVs in hand. We were told that they would call back. They didn´t. We checked out call centres but Catalan was a required language!
I even tried a popcorn stand in front of Maremagnum and it seemed that luck was on my side because the manager was Pinay. I was sure I'd be hired. I was going to be the most efficient popcorn seller in the entire European Union. After minutes of talking to her, I was proven wrong. The manager was cold, rude and was not that enthusiastic when I handed her my CV.
"We are not hiring at the moment. I can't guarantee you anything." Oh. A power tripper popcorn popper! I smiled at her and asked her to call us just in case there would be an opening. I kept smiling even if I was dying to tell her to be a little bit nicer.
After three days of no positive results, we hit the beach! I had never been a quitter before but when I saw the water, the sand and the sun, I was instantly captivated.
Barceloneta became our second home in Barcelona right away. Seven days had passed and still no signs of having a summer job, we eventually became more tourists than job hunters. After a series of serious meetings of the minds, Mae and I finally put our job hunting pursuit to an abrupt halt. From then on, we turned into legitimate sun worshippers. We went to the beach almost everyday. We never left the house without Mae's large yellow beach towel.
After almost two weeks in Barcelona, feeling frustrated and discouraged, we told our Pinoy housemates that we were leaving two weeks earlier than planned. They tried to convince us to stay longer but we had already given up the possibility of finding a summer job.
Three days before our departure though, our housemates found a job for me: to be a shop assistant. Admittedly, I was about to grab it but when the Pakistani owner told me that I would be working from twelve noon to twelve midnight, I was hesitant. Our remaining beach combing days at Barceloneta outweighed all my desires to bite the offer.
On our last night in Barcelona, we decided to culminate our failed professional pursuit on a high note. With our Pinoy friends who tagged their Catalan and Brazilian friends along, we danced until the wee hours of the morning. It was already three when we walked along the Las Ramblas going to Maremagnum where we spent two hours laughing and watching lovers making out and drunks trying to throw themselves into the water. By five, we were already exchanging goodbyes. Mae and I tried to catch some sleep as soon as we got home. Our bus was leaving at ten in the morning.
On our way  back to the capital, I no longer cared about our poorly planned job hunting nor the fact I didn't have a house yet. We were dead tired. 
When we got to Madrid, our Spanish friends were surprised by our hasty return and were amused at our über-tanned skin. After learning about our misadventures in Barcelona, they kept on mocking us no end: "Guys, it is alright to say that you were going ON HOLIDAYS, no need to fib that you were looking for a job!"